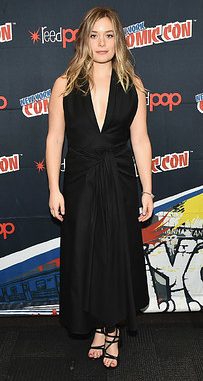 On Sunday at New York Comic Con, an extended version of the pilot was screened and the cast answered questions about the show.
Theo Wargo / Getty Images
1.

When asked about his inspiration for the look of the show, Noah Hawley, the creator, said he wanted it to feel like a "1964 Terence Stamp movie."

Theo Wargo / Getty Images

"Maybe it had to do with the fact that the last three X-Men movies have been period pieces," he later added.
2.

The show will be different than any other X-Men series we've seen, which is what producer Lauren Shuler Donner was aiming for.

While speaking at the panel, Donner said, "This is exactly what I wanted because it is far away from the X-Men movies, yet it still lives within that universe. The only way for X-Men to keep continuing forward is to always be original and to surprise. This [show] is really surprising."
3.

Aubrey Plaza says she wouldn't consider her character, Lenny, a sidekick to Dan Stevens', but they are friends.

Marvel Entertainment / FX
4.

Stevens' character, David Haller/Legion, is the brother of Katie Aselton's Amy Haller.

Theo Wargo / Getty Images

Aselton revealed at the panel that we'll learn more about the their characters' family dynamic, however, the audience was left hanging when moderator, Tim Stack, asked if there was potential for Amy to also be a mutant, because it wasn't specified in the pilot.

Hawley did chime in and say, "anything is possible."
5.

Jeremie Harris, who plays a character named Ptonomy Wallace, was able to elaborate a bit on his special abilities.

Theo Wargo / Getty Images

"I remember a lot…I can bring people through their memories, as well. And serve to help them grow and heal."
6.

Amber Midthunder will play Kerry Loudermilk and described her character as a "doer."

Theo Wargo / Getty Images

"She's a fighter, she's really not one to dwell…she'll lead the charge. She's very interesting."
7.

And Bill Irwin, who plays Cary Loudermilk, summarized his character as a "geeky scientist" and a "brilliant geneticist."

Theo Wargo / Getty Images
8.

When asked what the direction of the show would be, Hawley said, "The journey is not necessarily racing toward a battle with an enemy as much as it is dealing with the enemy within."

He suggested that the show would be very much character driven.
9.

When asked about where the series lies within X-Men canon, Hawley replied, "There's a certain degree to which that's to be determined."

"As I said, we're in the subjective reality of David [Haller], so it's hard for us to tell. One of the things that is attractive about the X-Men universe is that there all these alternate timelines…so it does have sort of this fable quality…I'll say that we are true to the origins of this character and I'll leave it at that."
10.

Hawley confirmed that Rachel Keller's character, Syd Barett, is an ode to Pink Floyd.
"This show should sound like The Dark Side of the Moon," Hawley said, speaking about a conversation he had with Jeff Russo, composer for the show. "That album, more than anything, is really the soundscape of mental illness to some degree. So yeah, that was my inside nod to Pink Floyd."
Jeph Loeb was asked if the characters of Legion would ever appear in X-Men films and said he won't "make any promises."
"Obviously the fact that I'm sitting here is an indication of bridges that are being made," he said, making it apparent that strides are being made to potentially see some character cross over, but again, nothing is promised.
There is no official premiere date for Legion, but it is set to debut in early 2017.
Check out more articles on BuzzFeed.com!