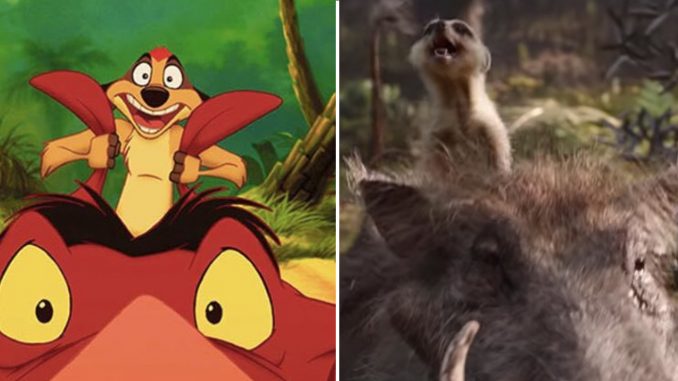 Hi, I'm Allie. There's absolutely nothing you need to know about me except for the fact that The Lion King has been one of my favorite films since I was old enough to sit up without help.
So you can imagine my excitement when I woke up this morning to discover that Disney had finally stopped teasing us and dropped a full-length trailer for the "live-action" reboot:
And, besides being actual ART in motion, the trailer shows off a ton of iconic scenes from the original film. So, here's how some of those classic moments compare to the 1994 original:
Our trailer begins with a sinister sounding voiceover from Africa's worst uncle, Scar (Chiwetel Ejiofor):
The voiceover is accompanied by shots of the titular (future) lion king and tiny baby boy who I would gladly die in a stampede for, young Simba (JD McCrary). We see young Simba and his BETROTHED, young Nala (Shahadi Wright Joseph), venture through the shadowy elephant graveyard:
We also get to see one of Scar's three lil' henchmen (Keegan-Michael Key, Eric André, and Florence Kasumba) looking absolutely terrifying:
Our next shot is of Simba's father and causer of childhood trauma, Mufasa (James Earl Jones), looking like a male model. His beautiful — and timely — speech about how to be a good ruler eclipses Scar's initial monologue perfectly:
And, while the ICONIC music blares in the background, we're greeted to one of my favorite shots in film history, when young Simba accidentally steps in dad's footprint, realizing how large a metaphorical shoe he has to fill:
We next get a shot of Zazu (John Oliver) and, if they don't have him say "And now, this" at some point in the film, I will be absolutely devastated:
This is followed by a nice, long shot of Rafiki (John Kani) who, frankly, looks better than ever — he's glowing:
Then, uh-oh…stampede. In the gorge. SIMBA'S DOWN THERE:
And it's time to HAKUNA the heck out of this MATATA with renowned parenting duo, Timon (Billy Eichner) and Pumbaa (Seth Rogen) with one of the most recognizable moments from the original film:
Our precious baby boy is all grown-up (Donald Glover) and ya'll already KNOW he can feel the love tonight:
"HE'S HOLDING BACK HE'S HIDING…BUT WHAT, I CAN'T DECIDEEE. WHY WON'T HE BE THE KING I KNOW HE IS? THE KING I SEE INSIDEEE":
And finally, we end with a shot of Timon and Pumbaa singing "The Lion Sleeps Tonight" and it's the absolute best thing I've ever seen in my whole life, I promise you:
So, yeah, there ya have it. I JUST CAN'T WAIT BE (WATCHING THE LION) KINGGG.