Actor Anthony Rapp, a filmmaker, and a House of Cards crew member are among the many men who have come forward.
Frederick M. Brown / Getty Images
On Oct. 29, BuzzFeed News published an interview with actor Anthony Rapp in which he alleged that House of Cards star Kevin Spacey once made a sexual advance on him in 1986. Rapp was 14 years old at the time. Since then, more people have come forward with allegations of sexual harassment and misconduct by Spacey.
In light of the accusations, Netflix has shut down production on the sixth and last season of House of Cards. CAA, Spacey's longtime agency, and his publicist, Staci Wolfe of Polaris, have parted ways with the actor. London's Metropolitan Police have reportedly begun investigating the allegations against Spacey.
Anthony Rapp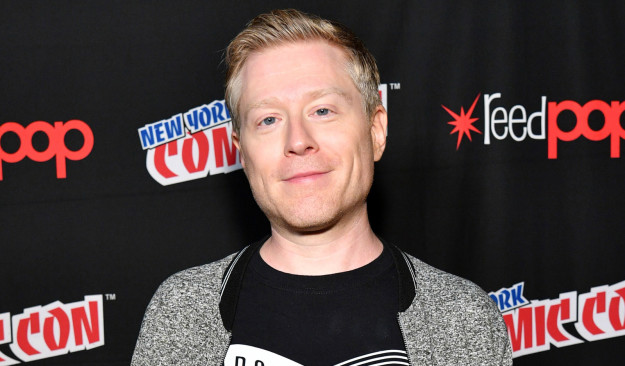 Dia Dipasupil / Getty Images
Rapp told BuzzFeed News he met Spacey in 1986 when both were performing on Broadway. Spacey, who was 26 at the time, invited the then 14-year-old Rapp over to his apartment for a party.
Rapp went to the party, where he knew none of the other attendees. Bored, he spent the evening watching TV in the bedroom. Some time later, Spacey entered the room. That's when the older actor made a sexual advance on him, according to Rapp: "He picked me up like a groom picks up the bride over the threshold … And then he lays down on top of me."
"He was trying to seduce me," Rapp said. "I don't know if I would have used that language. But I was aware that he was trying to get with me sexually."
Spacey responded to the BuzzFeed News report by saying he did not remember the encounter, apologizing to Rapp for any "inappropriate behavior," and coming out as gay.
Robert Cavazos
Cavazos, a Mexican actor, took to Facebook to share his account about Spacey. Although he did not specify when the alleged encounter took place, he claims the American actor groped him at the bar of London's Old Vic theater, where Spacey was the artistic director from 2004 to 2015.
"There are many of us who have a 'Kevin Spacey story.' It seems that it only took a male under 30 to make Mr. Spacey feel free to touch us," Cavazos wrote in Spanish.
Tony Montana
Montana, a filmmaker, told Radar on Oct. 31 that Spacey groped him at the Coronet Pub in West Hollywood, Los Angeles in 2003.
Montana said a seemingly drunk Spacey approached him at the bar and touched him without his consent: "He put his hand on my crotch forcefully and grabbed my whole package." The director claims Spacey then said to him, "This designates ownership."
According to Montana, Spacey later followed him into the restroom. "I backed him out the door and I pushed him," the filmmaker said.
On Nov. 1, a man, who chose to remain anonymous, told BBC he once woke up to find Spacey laying on top of him in the 1980s. The unnamed man — referred to as "John" in BBC's reporting — was 17 years old at the time.
John said he was 16 when he first met Spacey in 1984. A year later, he visited the Broadway actor at his New York City home. There, Spacey allegedly asked him to share his bed, but John insisted on sleeping on the sofa, separate from the older actor.
"As we went to sleep, he was sobbing from his bed, which … was likely meant to get me to respond in some way, which I didn't," said John. "I just tried to make it through the evening."
The next morning, John said he woke up to find that Spacey's head was on his stomach and his arms wrapped around him. Spacey was allegedly in his underwear.
"I was uncomfortable at best, traumatized at worst," said John.
A former production assistant on House of Cards
Netflix
According to eight people who at some point worked on Netflix's House of Cards, Spacey made the set a "toxic" work environment.
All of the eight anonymous sources told CNN Spacey's behavior was "predatory" and that it included inappropriate comments and nonconsensual touching.
A former production assistant also alleged that Spacey sexually assaulted him when he was assigned to pick up Spacey from an offsite location. The production assistant claimed Spacey put his hands inside his pants when the two were in the car. "I was in a state of shock … He was a man in a very powerful position on the show and I was someone very low on the totem pole and on the food chain there," the anonymous employee told CNN.
Amid these allegations, Netflix has suspended production on the sixth and final season of House of Cards.
On Nov. 2, an East Coast artist who spoke to New York magazine alleged that Spacey, then 24, pursued him for a sexual relationship starting when the unnamed man was 14.
Their relationship, according to the artist, ended after an attempted rape: "I guess he must have come up behind me and yanked down my baggy jeans, and he goes to fuck me and I'm like, 'No, I don't want to.'"
Spacey responded to the story through his lawyer, who wrote, "Mr. Spacey absolutely denies the allegations."
The actor told BuzzFeed News that Spacey, who was the theater's artistic director for a decade, repeatedly sexually assaulted him in 2013. He said that Spacey groped him in public places, and used the London theater "like a playground."
The actor emailed the theater's "confidential" helpline for sexual harassment reports, which it set up earlier this week. He was shocked and offended to receive a response from the theater's executive director.
A representative for the Old Vic described the man's claims as "false".
Dawes, now 45, told BuzzFeed News that Spacey once invited him and a male friend over to his apartment to watch a movie. Dawes was 16 at the time. There, he said, Spacey made cocktails while gay pornography played on the television in the living room.
"We all had a drink, and we were kind of like, 'Oh, no one else is coming?' And he's like, 'Oh, no one else decided to come,' and he never mentioned that this porn was playing. It was really awkward," said Dawes.
An unnamed journalist told BuzzFeed News about an incident he said took place in the early 2000s. After interviewing Spacey for a national magazine, he joined the actor at a club. There, the journalist claims, Spacey began aggressively groping him.
"He just kept reaching between my legs and, you know, just grabbing my dick," he said. "I would move his hand away, and say something that I thought was pretending was funny or whatever at first. And then I was starting to get annoyed by it, and that was pretty clear," he recalled.
When the reporter tried to leave, he said Spacey began "screaming in my face outside of the main area … He was actually saying that I did want to and I was a coward. That was his tactic. It was unbelievable."
While working on the set of Outbreak (1995), Ebenhoch said one of the actor's assistants approached him and asked him to go into Spacey's trailer. "They asked flat out to engage in a sexual act. It was enough to stun me. It blew me away," he told BuzzFeed News.
Ebenhoch, who is now openly gay but was not out at the time, says he responded with disgust to protect his sexual identity on set. "As a military adviser the last thing you'd want anyone to know is that you were gay," he said.