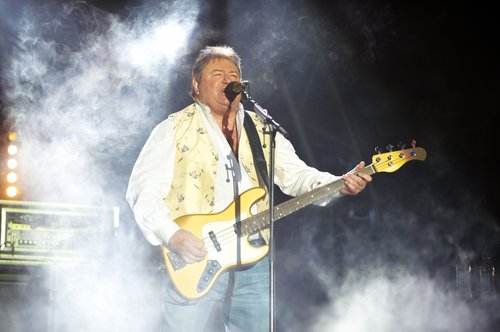 Musician Greg Lake co-founded both King Crimson and Emerson, Lake and Palmer — bands that helped define the sprawling, influential but often-maligned genre known as progressive rock.
Lake, who died of cancer at 69, was instrumental in bringing classical influences, epic length, mythic scope and 1970s excess into rock 'n' roll, winning millions of fans before punk swept in and spoiled the party.
Manager Stewart Young said in a statement that Lake died Wednesday after "a long and stubborn battle with cancer."
Born in the southern English seaside town of Poole in 1947, Lake founded King Crimson with guitarist Robert Fripp in the late 1960s. The band pioneered the ambitious genre that came to be known as progressive rock.
He went on to form ELP with keyboardist Keith Emerson and drummer Carl Palmer. With Lake as vocalist and guitarist, ELP impressed crowds at the 1970 Isle of Wight Festival, in a lineup that also featured Jimi Hendrix and The Who.
The band released six platinum-selling albums characterized by songs of epic length, classical influence and ornate imagery, and toured with elaborate light shows and theatrical staging.
One album was a live interpretation of Russian composer Modest Mussorgsky's "Pictures at an Exhibition." It reached the top 10 in both Britain and the United States, a feat that seems astonishing now. Another, "Tarkus," contains a 20-minute track telling the story of the titular creature, a mythic armadillo-tank.
Emerson, Lake and Palmer's 1973 album "Brain Salad Surgery" included a nearly 30-minute composition called "Karn Evil 9" that featured a Moog synthesizer and the eerie, carnival-like lyric: "Welcome back my friends, to the show that never ends."
They filled stadiums and sold records by the millions, but ELP and other prog-rock bands such as Yes and the Moody Blues suffered a backlash with the arrival of punk in the mid-to-late 1970s. They were ridiculed as the embodiment of pomposity and self-indulgence that rock supposedly eschewed.
ELP broke up in 1979, reunited in 1991, later disbanded again and reunited for a 2010 tour.
Emerson died in March from a self-inflicted gunshot wound at his home in Santa Monica, California.
Palmer, the group's sole survivor, said "Greg's soaring voice and skill as a musician will be remembered by all who knew his music."
"Having lost Keith this year as well has made this particularly hard for all of us," Palmer said. "As Greg sang at the end of 'Pictures At An Exhibition', 'death is life.' His music can now live forever in the hearts of all who loved him."
Lake's songs as a solo artist include "I Believe in Father Christmas," an enduring seasonal staple first released in 1975.
In 2005, he answered a reader query to The Guardian about songwriting royalties, saying it was "lovely" to get a royalty check for his Christmas hit each year but that the money "isn't quite enough to buy my own island in the Caribbean."
He urged readers to request the song from their local radio stations each year — and promised to invite everyone to his island if he was ever able to get one.
He is survived by his wife Regina and daughter Natasha.