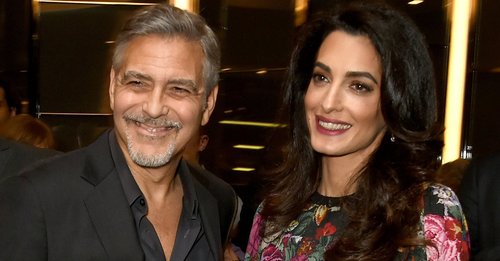 George Clooney and Amal Clooney have welcomed twins.
The couple welcomed a son and daughter on Tuesday, George's longtime rep, Stan Rosenfield, confirmed.
"This morning Amal and George welcomed Ella and Alexander Clooney into their lives," a statement from George's rep to Access Hollywood read. "Ella, Alexander and Amal are all healthy, happy and doing fine. George is sedated and should recover in a few days."
It was back in February that news first broke that the couple was expecting.
Back at CinemaCon, George told Access Hollywood's Natalie Morales he was ready to be called "dad."
"Yes, I am ready. I'm happy," George told Natalie. "I'm excited."
One of the first celebs to learn George and Amal were expecting was Matt Damon, who found out last year.
"Matt's a really close friend and he's also got four kids, so I can use a little counseling every once in a while," George told Natalie about reaching out to his buddy Matt.