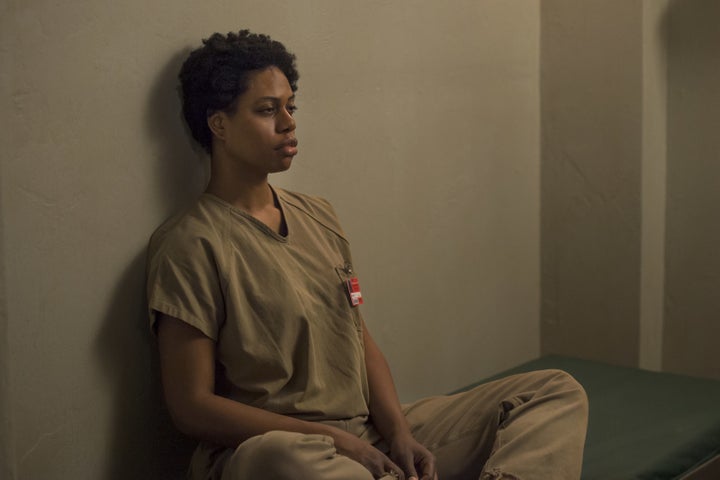 Jojo Whilden/Netflix
Litchfield Penitentiary has by no means reflected a glossy idyll of prison life on Orange Is the New Black, but for her first two seasons, Sophia Burset — a black transgender inmate played by Laverne Cox — seemed to have figured out how to do her time without conflict.
That changed in Season 3 of the Netflix drama, when the clashes between Sophia and fellow inmate Gloria (Selenis Leyva) revealed an ugly, violent transphobia latent among some of the prisoners that resulted in Sophia being put in the SHU, the prison's solitary confinement. It was, in theory, for her protection; the results, however, were inhumane.
In a telephone interview with BuzzFeed News, Cox said that she had both dreaded and welcomed the brutal turn in Sophia's story. "This is the violence we experience in our lives," she said. "It's real. It's hard for me, and it's triggering for me, to have to be assaulted: I've experienced violence in my own life, so to have to re-experience that on camera is not the most pleasant experience. But it's a beautiful thing when we can illuminate the truth."
The fourth season of Jenji Kohan's Orange Is the New Black, which went up on June 17, sees less of Sophia, but her storyline remains crucial. Cox talked to BuzzFeed News about struggling to put herself in Sophia's place, what she drew on to do it, and her Orange Is the New Black future. (Warning: There are spoilers for the fourth season throughout.)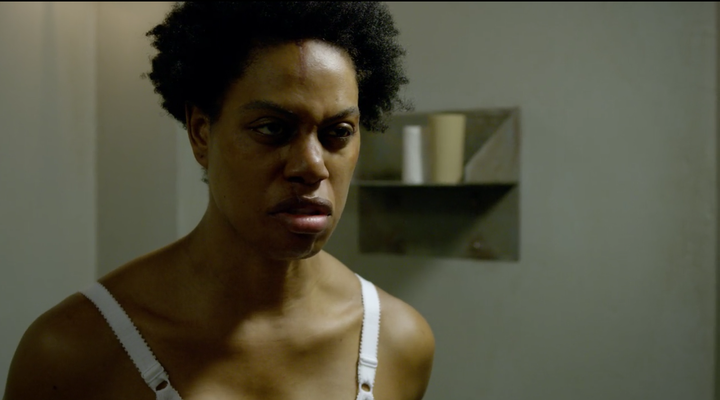 Netflix
1. Cox barely interacted with the cast at the beginning of Season 4, which helped to put her in Sophia's isolated mindset.
In Season 3 of Orange Is the New Black, the escalating tensions and increasingly toxic misunderstandings between Sophia and Gloria were a central plot. In the fourth season, it's the absence of Sophia that infuses a sense of dread — both among her friends and family, and in the viewer.
When we finally do see Sophia in Episode 4, she is in desperate shape. On a surface level, she is without her armor: her perfect makeup and carefully styled wig. She's ready to cause floods and set fires if that's what it takes to draw attention to her plight, and to make Litchfield's newly named warden, Caputo (Nick Sandow), remember what these circumstances — imposed by the corporation that owns the prison — are doing to her.
"Sophia is a fighter, and I love that fight about her," Cox said about Sophia's extreme measures of protest. But that combative spirit is not to last — it can't in solitary confinement. "I understood from my research that people who are in solitary become delusional," Cox said. "You start having visions of things that aren't there; you're paranoid. You lose all sense of time, and you also lose the sense to want to live."
If Sophia was once central to the social fabric at Litchfield, in Season 4 she is alone — and Cox's acting …read more
Source:: Buzzfeed