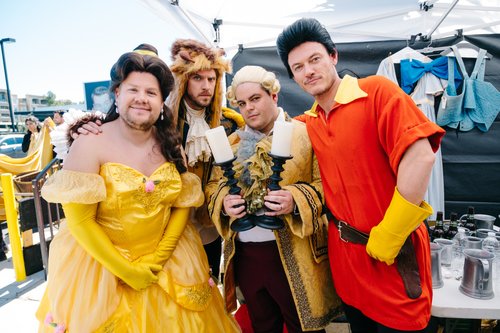 Dan Stevens, Josh Gad and Luke Evans joined "Late Late Show" host James Corden to perform "Beauty and The Beast" – in a Los Angeles crosswalk!
The sketch began with James telling an acting troupe they were going to bring "Beauty and The Beast" to life as their next production, before bringing out the trio of actors from the live-action Disney film to join them.
"After all that time on the set, it's going to be amazing to perform in front of a live audience again," Dan said after meeting the acting troupe.
"Yeah, to be invited by James to perform on the crosswalk outside of CBS — that's what we call a dream come true," Josh added.
The acting troupe and the "BATB" stars then practiced a few poses – fork, knife, spoon – and Josh attempted to sing "Be Our Guest" while James tossed playground balls at him (dodgeball style). James also gave Dan tips on how to play the beast.
A short while later, with James in the Belle role, they all took the production to the corner of Beverly and Genessee, performing the production inside the crosswalk — when the pedestrian sign was on.
"Who wants to do it in front of millions of people in a film, when you can do it in front of half a dozen Lyft and Uber drivers here," Josh said.
Watch the whole production now: