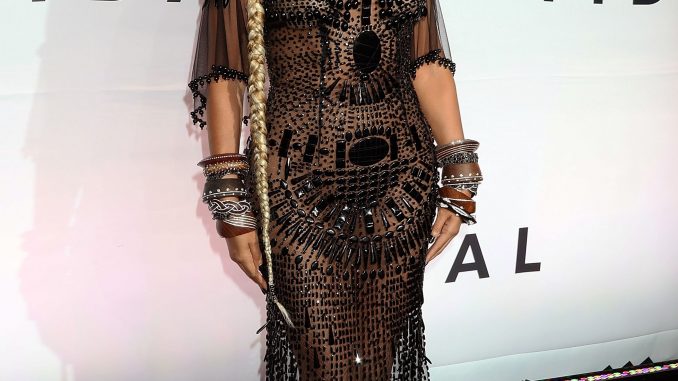 Beyonce leads the field in the NAACP Image Award nominations, but there's a friendly rival close behind: sister Solange.
Beyonce received seven nominations for the 48th annual Image Awards, including entertainer of the year, outstanding female artist and best album, for "Lemonade," it was announced Tuesday. Last week, she topped the Grammy Award nominations with nine bids.
Solange earned five Image Award nods, including for female artist and best album, "A Seat at the Table."
(Getty Images)
Other top nominees include Chance the Rapper and Kendrick Lamar, with four bids each.
"Birth of a Nation" filmmaker Nate Parker and "Atlanta" TV series creator Donald Glover both proved triple-threat contenders, each earning nominations as writer, director and stars of their respective projects.
Parker's chances for similar Oscar respect looked strong after his film won top Sundance Film Festival honors, but his involvement in a 17-year-old rape case — in which he was acquitted — cast a shadow over them. Academy Award nominations are out Jan. 24.
Competing with "Birth of a Nation" for best movie are "Fences," "Hidden Figures," "Loving" and "Moonlight."
Among TV series, "Atlanta," "black-ish," "Insecure," "Survivor's Remorse" and "The Carmichael Show" will vie for comedy honors. Best drama series nods went to "Empire," "Power," "Queen Sugar," "This Is Us" and "Underground."
Beyonce's competitors in the entertainer of the year category are Viola Davis, Regina King, Dwayne "The Rock" Johnson and Chance the Rapper.
For the outstanding female artist title, she and Knowles are nominated along with Alicia Keys, Fantasia and K. Michelle.
Top male artist nominees are Anthony Hamilton, Bruno Mars, Chance the Rapper, Kendrick Lamar and Maxwell.
The NAACP Image Awards honor accomplishments of people of color working in TV, music, literature and film, and also recognize people and groups that promote social justice through creative endeavors. LeBron James is to receive the NAACP Jackie Robinson Sports Award, the civil rights group said.
The Feb. 11 ceremony, airing on TV One, will be hosted by "black-ish" star and Image Awards nominee Anthony Anderson.