Ayesha Curry visited Access Hollywood Live on Thursday and shared recipes for crafting meals for adults vs. kids on Thanksgiving.
Adult recipe:
Mom's Leftover Turkey Soup
Ingredients:
1 large leek
1 1/2 to 2 cups peeled and diced butternut squash
2 large celery stalks, diced
1/2 large onion, diced
2 thyme sprigs
2 bay leaves
A handful of shredded cooked turkey (use however much you have)
Kosher salt
Freshly ground black pepper
4 cups chicken or vegetable broth
4 cups water
1/2 cup dry white wine
Mom's Leftover Turkey Soup
Directions:
1. Combine the leek, butternut squash, celery, onion, thyme, and bay leaves in a large stockpot.
2. Add the turkey and season with a pinch of salt and pepper.
3. Pour in the broth, water, and wine and bring to a boil.
4. Lower to a simmer and cook, stirring occasionally, until the squash is tender when pierced with a fork, 15 to 20 minutes.
5. Remove the herb sprigs and bay leaves.
6. Taste the soup and season with more salt and pepper as needed.
7. Ladle into bowls and serve.
Kid recipe:
S'mores Pops
(Prep time: 5 mins; Cook time: 5 mins)
Ingredients:
Bag of large marshmallows
1 package semi-sweet chocolate chips
1 package white chocolate chips
1 package honey graham crackers
Lollipop sticks
Orange food coloring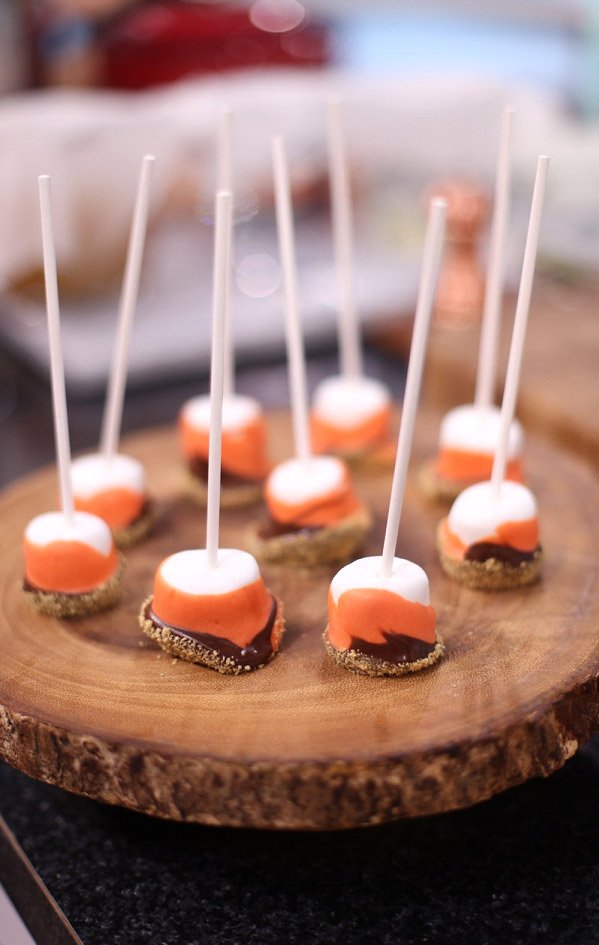 Ayesha Curry's S'mores Pops (Courtesy of Ayesha Curry)
Directions:
1. Twist lollipop sticks securely into the middle of the marshmallows on the flat side.
2. Place the graham crackers in a sandwich bag, and using a rolling pin, crush them until they are finely ground. Place the graham cracker crumbs in a bowl.
3. Heat the semi-sweet chocolate chips in a double-boiler, on the stove, or in the microwave.
4. Heat the white chocolate chips in a double-boiler, on the stove, or in the microwave. Once melted, add a couple drops of the orange food coloring and stir until evenly distributed.
5. Holding the marshmallow stick, carefully dip the marshmallow in the orange chocolate mixture, then partially in the semi-sweet chocolate until completely covered.
6. Sprinkle with the graham crumbs and place on a plate to let cool and dry