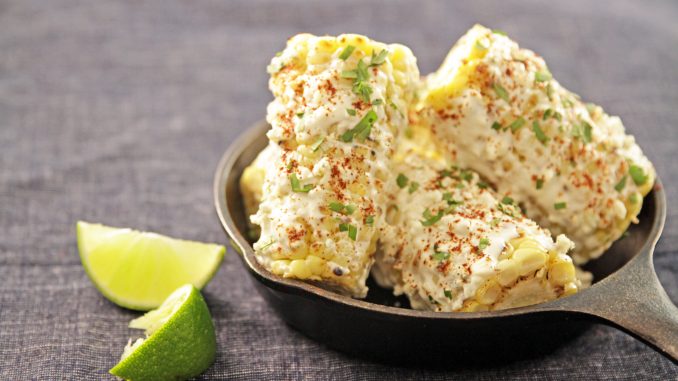 Who doesn't love a summer picnic? It's Day 1 of summer and Access Hollywood Live celebrated by throwing together a picnic party. Beachbody super trainer and creator of the 21-day fix, Autumn Calabrese, shared recipes for her favorite slim-down seasonal dishes.
Oven-Fried Chicken
(Serves 4)
2 tbsp. pine nuts
1 tbsp. cornmeal
½ tsp. onion powder
½ tsp. ground paprika
½ tsp. garlic powder
½ tsp. pepper
¼ tsp. cayenne pepper
½ tsp. dried oregano
½ tsp. dried thyme leaves
¼ tsp sea salt
½ tsp. baking powder
¼ cup almond flour
¼ cup coconut flour
2 tbsp.Parmesan cheese
½ cup low-fat buttermilk
1 egg white
4 raw chicken breast, boneless, skinless
Preheat oven to 425-degrees. Place pine nuts and cornmeal in food processor (or blender); cover. Pulse until finely ground. Combine pine nut mixture, onion powder, paprika, garlic powder, pepper, cayenne pepper, oregano, thyme, salt, baking powder, almond flour, coconut flour, and cheese in shallow dish; mix well. Set aside.
Combine buttermilk and egg white in dish, whisk to blend. Dip each chicken breast into buttermilk mixture; dredge in pine nut mixture. Set aside.
Heat medium nonstick skillet, lightly coat with olive-oil cooking spray over medium heat. Add chicken breasts, cook for 3 to 4 minutes. Remove chicken, lightly coat skillet with spray, and return chicken on uncooked side. Cook for 3 to 4 minutes. Transfer chicken to baking dish, bake for 10 to 12 minutes.
Dill Cucumber Salad
(serves 4)
2 tsp. ground coriander
½ tsp. black pepper
½ tsp. sea salt
3 tbsp. apple cider vinegar
1 tbsp. Raw honey
3 cups thinly sliced English hothouse cucumber
½ cup thinly sliced red onion
2 tbsp. chopped fresh dill
Combine coriander, pepper, salt, vinegar and honey in a medium bowl; whisk. Add cucumber, onion, and dill; toss to blend. Refrigerate salad, covered, at least 1 hour and enjoy!
Mexican Street Corn (Beachbody)
Mexican Street Corn
(serves 4)
1 tbsp. low-fat Mayo
1 tbsp. low-fat sour cream
2 tbsp. crumbled Cotija cheese (or Parmesan)
1 tbsp. crumbled blue cheese
½ tsp. chili powder
1 clove garlic
1 tsp. grated lime peel
1 pinch sea salt
2 ears of corn
1 tbsp. chopped fresh cilantro
½ medium lime
Preheat broiler or grill on high. Combine mayo, sour cream, Cotija cheese, blue cheese, ¼ tsp. chili powder, garlic, lime peel, and salt; mix well. Set aside.
Grill corn, turning every minute or so, for 10 to 12 minutes. Cut grilled corn in half. Slather each evenly with mayo mixture. Garnish evenly with remaining chili powder and cilantro. Serve.
Protein-packed Ranch Dip
(serves 5)
3 cans chicken breast, drained.
2 tbsp. reduced-fat Greek yogurt
2 tbsp chives
1 tbsp. fresh dill
2 tbsp. chopped onion
2 cloves garlic
2 tsp. Dijon mustard
1 dash smoked paprika
Salt & pepper
Place chicken, yogurt, chives, dill, onion, garlic, mustard, salt, pepper, and paprika in food processor; pulse for 1 to 2 minutes, or until smooth and creamy.
Summer Sangria (Beachbody)
Summer Sangria
(serves 12)
¼ cup blueberries
¼ cup strawberries
¼ cup raspberries
¼ cup cucumber
1 edible, rose (petals only)
1 bunch mint leaves
1 bottle Prosecco
1 bottle Rose
Zest or orange
Fill a pitcher half-full with ice, add berries, zest, petals and mint. Pour equal parts Prosecco and Rose over other ingredients. Allow to infuse, in the refrigerator anywhere from 15 minutes to 2 hours. Serve chilled over ice with a garnish of mint.
No Bake Mini Blueberry Pies
(makes 12 pies)
Crust
2 2/3 cups gluten-free graham crackers
1 tbsp. maple syrup
¼ cup + 2 tbsp. coconut oil
Filling
3 ½ cups blueberries
½ cup coconut sugar
3 tbsp. cornstarch + 3 tbsp. water
I cup water
2 tbsp. lemon juice
1 dash sea salt
Pulse Graham crackers in a food processor or blender until fine, than add the syrup and coconut oil and pulse to combine.
Line a muffin tin with 12 baking cups and spray with non-stick spray. Place 2 tbsp. of crust mixture into each cup and press down with fingers, molding into a shell. Place tin in freezer to set.
In a saucepot, add 2 cups blueberries, sugar, water and salt. Bring to a boil, reduce to simmer, and cook until blueberries have burst, about 7 minutes. Whisk in cornstarch slurry and cook until mixture thickens. Kill the heat and stir in remaining 1 ½ cups blueberries and lemon juice. Allow mixture to chill in refrigerator until reached room temperature, then fill each muffin cup with ¼ cup blueberry mixture. Chill muffin pan in refrigerator until blueberry mix has set, about 2 hours.
(Recipes courtesy of FIXATE.)