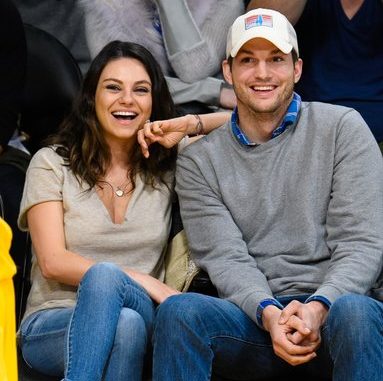 Meet the newest Kutcher! Ashton Kutcher and Mila Kunis have revealed the name of their baby boy.
"A Plus is happy to announce that Dimitri Portwood Kutcher was born at 1:21 a.m. on November 30, weighing 8 pounds and 15 ounces," a message posted to Ashton's website on Friday read.
Dimitri is Ashton and Mila's second child. The couple welcomed daughter Wyatt in 2014, and have since been famously private when it comes to their little ones.
According to A Plus, the actor said he and Mila want to make sure they don't impose the spotlight on their children before they're able to decide if it's something they want for themselves.
"We'd like to allow our kids to make their own choices on whether to have a life in the public eye or not," Ashton told the site. "We don't want to make the choice for them."
However, Ashton may have accidentally let slip a crucial detail about Dimitri during an appearance on "Today" in October.
"She points at Mila and she's like, 'baby brother,' when she points to the belly, and then she points to Dad and she goes, 'beer,'" the actor said, when asked how Wyatt was handling her soon-to-be big sister duties at the time.
Ashton and Mila tied the knot in 2015, but first met years earlier while working together on "That '70s Show."