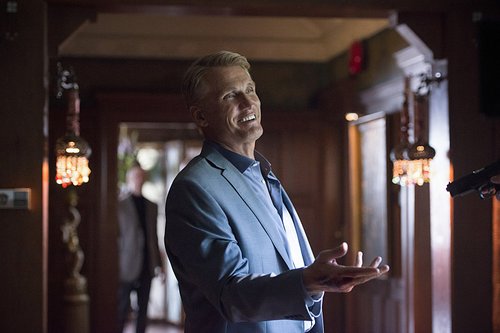 Dolph Lundgren made his debut on The CW's "Arrow" last week as Konstantin Kovar, the flashback storyline villain Oliver Queen is on a mission to kill in Russia.
Konstantin, who works for the Russian government, has the upper hand though, having captured the new Bratva member.
Imposing, commanding, smart and powerful, Dolph's "Arrow" character is clearly going to be a major challenge to the younger (long-haired) Oliver.
On Tuesday, Lundgren told AccessHollywood.com more about his new role, what convinced him to join the show and about meeting "Arrow's" Stephen Amell while the series star was in what sounds like his flashback sequences wig.
AccessHollywood.com: Wendy Mericle, one of the producers on the show, was telling me that when they were looking to bring you onto the show, they wrote you a letter. What in the letter helped sway you?
Dolph Lundgren: Well, they were huge fans of mine and they knew a lot about my career and so forth. But I think what really swayed me was the script, because I read the character and I thought it was an interesting chance to kind of take my Russian persona from 'Rocky IV' and what have you and kind of have some fun with it and make kind of an updated version – somebody who's kind of a little bit older and a little more sophisticated maybe. Different type of guy, but still tough.
Access: For sure. So Marc Guggenheim, another one of the executive producers I've talked to … he said when he was watching the dailies come back — when you were shooting your first scenes — he picked up the phone and immediately extended your deal. What made you want to stay longer on the show than you were originally booked for? I think that's really cool.
Lundgren: Thank you. Well, one was that they asked me, and two was I really enjoyed it. I enjoyed the character, I enjoyed working with Stephen, the lead, and I enjoyed the director I worked with. … It was very well organized and it was kind of quite cinematic actually the way they shot it and I haven't done much television, except, I've been on comedy shows and stuff like that, but I haven't done dramatic TV. I don't think I've ever done anything. So actually, the way things are moving now with the equipment and the cameras and everything, it's kind of like making a film, like making a movie, so it was a really nice experience.
Access: Now did you know Stephen? I don't know if you'd met him before at some event or anything like that? Or was 'Arrow' your first encounter with Mr. Amell?
Lundgren: No, the first encounter was me, in a tuxedo, ready for my, scene and he walked on wearing some wig or something. … We said hi and he said, 'This is not my real hair.' (laughs). And I said, 'It's OK, I know.' He had a funny wig on. And that's how we met.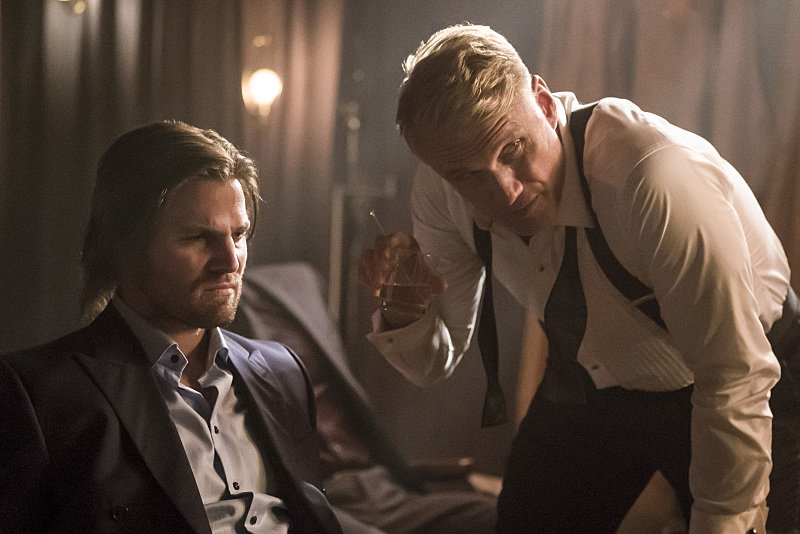 Stephen Amell as Oliver Queen and Dolph Lundgren as Konstantin Kovar in 'Arrow' Season 5, Episode 6 — 'So It Begins' (The CW)
Access: Obviously we're really looking forward to seeing the action/fighting side of you, but I'm curious about about your character Konstantin Kovar. Is he going to be sort of a slow roll out? He's definitely a bit of a man of mystery right now to us.
Lundgren: Yeah, well, he's a man of mystery to me too because, you know, I'm not creating this show (laughs). … And that's another fun thing about it different than a feature, because you know where it's going, but here, you don't really know and I guess nobody really knows until they see the footage. And like Guggenheim said, he saw the footage and they changed their idea of I guess how the character's displayed and so forth. But … he is a mystery guy. He obviously is an enemy of Stephen's character, but there is something there in him, where I think there's a little feeling of there may be more to it than meets the eye, because there are other players in … that arena that are also bad or negative. So, there may be different shades in this guy that we haven't seen yet.
Access: Do you think he might have any interest in converting Oliver to his side?
Lundgren: (Laughs) Well, that would be nice. … Yeah, for sure. I think there's some interest of that, definitely. … Yeah, I find there's sort of a desire for my character to explain himself and to sort of make the other fellow understand what I'm doing and I think the next step to that would be to kind of try to sway him maybe to come over to our side.
Access: How soon 'til we get to see you doing some fighting and action stuff? You know that we're all waiting to see that.
Lundgren: Well, there's a little bit in the next episode. There's a little bit there and hopefully more to come.
Access: Finally, let me just ask you, has this been a blast for you? Are you having a lot of fun doing 'Arrow'?
Lundgren: Yes, it has been a blast. It's fun to play this character. I think he was well-written and I have a lot of fun with it, and the fact that I don't really know where it's going is interesting because I have to keep the character alive sort of within myself over quite a long period of [time]. … I know it's going to be six months for sure because I'm doing some stuff in February. So yeah, that's interesting. And yeah, it's sort of endearing to have this Kovar fellow be there almost every day in my life too, to be ready for the next shot. So I'm enjoying it. I'm sure the future will be even better.
"Arrow" continues Wednesdays at 8/7c on The CW.