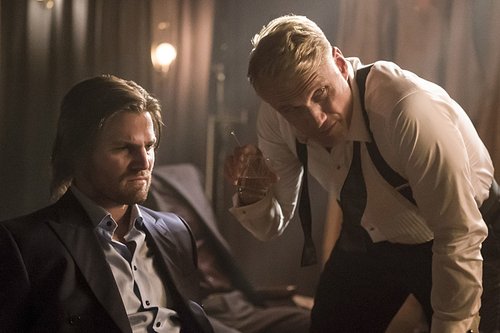 Action film legend Dolph Lundgren makes his "Arrow" debut on Wednesday night as Konstantin Kovar, and when he was first cast on the show, producers realized they needed to keep him around longer than was originally planned.
"We rethought some of the stories a little bit once we knew we had him, once we knew he was available to us for this character," "Arrow" Executive Producer Wendy Mericle previously told Access Hollywood.
In a separate interview with EP Marc Guggenheim, he told Access that as they watched the daily tapings of Dolph in the Russian flashback sequences on "Arrow," it prompted the change in the actor's guest arc.
"He's spectacular. He first appears in Episode 6 and I will say, like I watched his dailies and then we actually immediately made a change to his deal," Marc said.
While Dolph's episode count is unknown, fans can expect to see him doing what he's known for – action!
"Stephen [Amell] was really excited about the casting and how could you not want to see Drago take on The Green Arrow, or The Hood, basically. It's awesome," Wendy said, making reference to Ivan Drago, Dolph's character in "Rocky IV."
"Arrow" continues Wednesdays at 8/7c on The CW.