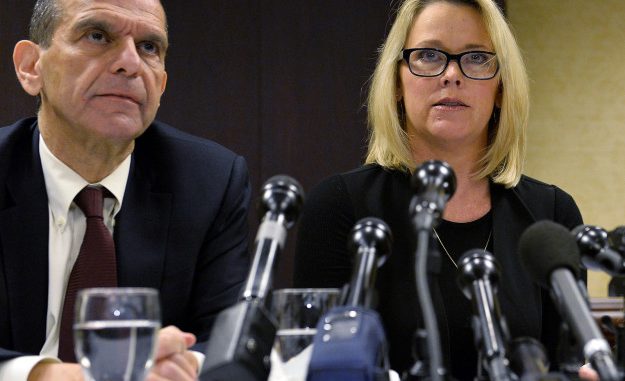 Lisa Lake / Getty Images
A former Boston TV news anchor alleged Wednesday that actor Kevin Spacey groped her then-18-year-old son at a Massachusetts restaurant last year, adding that police are now investigating the incident.
It's the latest allegation to be made against the House of Cards actor since BuzzFeed News first published a story in which actor Anthony Rapp claimed Spacey made a sexual advance on him when he was 14 in 1986.
Heather Unruh said her son had been "star struck" to meet the Oscar winner at the Club Car restaurant in Nantucket in July 2016. She alleged the actor bought the teenager "drink after drink" before reaching his hand down the young man's pants and grabbing his genitals.
"Shame on you for what you did to my son," Unruh told reporters at a news conference.
Unruh said her son, whom she didn't name, went into shock as Spacey continued to make conversation and invite the teen to drinks at a different venue. When the actor got up to go to the bathroom, she said a woman in the restaurant asked the teen if he was alright and then told him to run away.
"I want to make it clear: This was a criminal act," Unruh said of Spacey's alleged behavior.
Unruh says she contacted the sheriff in Nantucket last summer to tell authorities what happened, and while they encouraged her son to come forward, she said her son was not yet ready for the attention that would come with making accusations against the famous actor.
Heather Unruh / Via Twitter: @heatherunruh
After multiple allegations of sexual assault and harassment were made against Harvey Weinstein, Unruh tweeted last month that Spacey had "assaulted a loved one," but did not identify whom she was speaking about.
Sitting between lawyer Mitchell Garabedian and her daughter Kyla (her son is away at college) on Wednesday, Unruh said her son had decided recently to file a police report with Nantucket police.
A spokesperson for the police department told BuzzFeed News they could not confirm whether or not a report was filed because such complaints are confidential under Massachusetts state law.
Spacey's lawyer, Bryan Freedman, did not respond to a request for comment on Unruh's claim, but after Rapp's allegation Spacey tweeted that he did not recall that incident. However, he added, "If I did behave then as [Rapp] describes, I owe him the sincerest apology for what would have been deeply inappropriate drunken behavior."
Actor Harry Dreyfuss last week added his name to the list of Spacey accusers, alleging in a BuzzFeed story that Spacey fondled him when he was 18 in 2008. He said his father, Richard Dreyfuss, was in the room during the incident, but didn't see Spacey grope him. When asked to comment on Dreyfuss's story, Freedman said, "Let me be clear, Mr. Spacey absolutely denies the allegations."