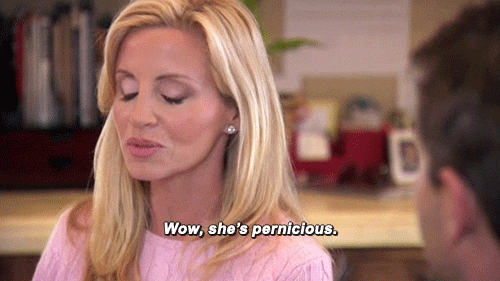 65.

When Camille proved that being married to Frasier Crane can actually enhance your vocabulary.
50.

When being in the hospital couldn't stop Kim Zolciak from having a good meal.
44.

When Aviva delivered a surprisingly sick burn.

And then we found out that Ramona and Sonja didn't know what white trash meant.
43.

When Caroline gave us the ground rules of interacting with the Manzo family.
29.

When Yolanda shaded Adrienne right into the dark.
26.

When Kim Richards spoke some ugly truths from the back of a stretch limo.
20.

When Tamra swiftly, epically took down Alexis.

you're crazy, jesus jugs
11.

When Camille had the bright idea to invite Allison Dubois to dinner.

Know that.
9.

When Alex *tried* to school Jill.
6.

When Kelly manage to conflate Al Sharpton, Don King, and A Few Good Men into one bizarre moment.
5.

When Luann dragged Alex's shoes into the dirt, spat on them, and gave them a proper funeral.

even louis vuitton makes mistakes
3.

When Danielle hit Teresa's last nerve.

We all know what happened right after this.
Check out more articles on BuzzFeed.com!