Or as I like to call them, ~little movie foreplay nuggets~.
Before you ever get to see a movie, you see the trailer.
Paramount Pictures
And there are a lot of factors that go into making an excellent movie trailer, from editing and pacing to music choice and sound design.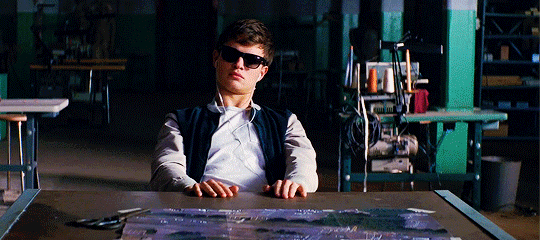 Tristar Pictures
The Shape of Water, Official Trailer #1
The Shape of Water has been universally praised as exceptional, and this trailer really showcased what would go on to be one of the most original, stunning love stories in recent years. If any one of the Disney Princesses and Creature from the Black Lagoon had a wonderfully strange one-night stand, the baby would look a little something like this trailer, and how could you NOT be sold on that?
Fox Searchlight / Via youtube.com
Mother!, Official Trailer #1
Arguably the most divisive movie of the year among audiences and critics alike, there's no denying the official trailer for this film was just weird enough to have people intrigued. It's always refreshing to see a movie trailer that doesn't give away TOO much, while still showing just enough to keep the imagery grounded, and this trailer used mystery and simplicity to its advantage.
Paramout Pictures / Via youtube.com
Blade Runner 2049, Official Trailer #1
The most visually stunning film of not just this year, but any year in recent memory, every single shot in the trailer looks like it could be some sort of fancy painting. And besides the visually stunning cinematography, we also have the visually stunning men that are Ryan Gosling and Harrison Ford. This trailer was the absolute perfect glimpse into the Blade Runner world.
Warner Bros. / Via youtube.com
Logan, Red Band Trailer
While the Johnny Cash "Hurt" trailer was fantastic, it was unfortunately released in late 2016, making it ineligible for this list; however, the red band trailer released for the dark AF Wolverine swan-song was just as visceral. The fact this film AND Wonder Woman came out in the same year is a genuine gift for fans of the genre. Plus, this trailer gave us Professor X saying the F-word, so nothing else was needed here.
20th Century Fox / Via youtube.com
Atomic Blonde, Official Trailer #2
I would argue that Atomic Blonde had the best choreographed combat sequences of the year, and this trailer really leaned into that fact. The use of three different songs so seamlessly while revealing key plot details AND giving us all the Charlize Theron we truly deserve made this worthy of acknowledgement. If you have not seen the full movie yet and like the looks of this trailer, I highly recommend checking it out.
Focus Features / Via youtube.com
It, Teaser
Who doesn't like clowns (except literally everyone)? This trailer was the definition of "Hey, you know what? No thanks!" which is EXACTLY what you want from a Stephen King adaptation. While this film went on to become one of the runaway hits of the summer, this first teaser is really what set the hype off. Just make sure you're okay with your electric bill shooting up, because you'll be sleeping with your lights on.
Warner Bros. / Via youtube.com
The Killing of a Sacred Deer, Teaser
Sometimes the scariest stuff isn't outright scary at all… it's just creepy AF instead. Enter: The Killing of a Sacred Deer. This trailer in itself is almost like a terrifying music video, and there was very little revealed about the film on the internet when this teaser was first released, which only made it creepier.
A24 / Via youtube.com
Thor: Ragnarok, Official Trailer #1
If you told me in 2016 that Thor would have, perhaps, the most entertaining Marvel film of all time, I would have been like LOL U DRUNK, GIRL. And yet, here we are. With this trailer, you almost forget about all of the cool action and insane special effects because of how many great, hilarious one-liners there are. The trailer also includes what my fiancé (who's a huge fan of Marvel) called "the best use of a Led Zeppelin song since Wayne's World," so there's that.
Marvel Studios / Via youtube.com
The Disaster Artist, Teaser
While the two full-length trailers for The Disaster Artist were equally fantastic, I want to shake hands with whoever chose this to be the first peek at the film. Arguably the most iconic scene in the entire original movie, as well as one of the most unbelievable parts of the book this adaptation is based on, it was the perfect introduction to Franco's eeriely good impression of Tommy Wiseau.
A24 / Via youtube.com
Baby Driver, Official Trailer #1
ZIP, ZOOM, CRASH, BANG. Baby Driver as a whole film is an unforgiving adrenaline shot to the chest, and this trailer did not shy away from the action-packed musicality of the final product. Also delicious daddy John Hamm is in it??? Signed, sealed, delivered, take all of my money.
Tristar Pictures / Via youtube.com
Star Wars: The Last Jedi, Official Trailer #1
This honestly needs zero explanation…it's Star Wars. This first full-length trailer had fans ~feeling some type of way~ for sure, and did a perfect job of establishing the tone of uncertainty and darkness that this entry into the franchise seems to be rife with. Also, it gave us more of Rey being a badass, Luke being a grumpy grandpa, Kylo being a trash can human, and also, you know, sweet baby PORGS.
LucasFilm / Via youtube.com
Ladybird, Official Trailer #1
The break-out film of the year all started with this trailer. The clips chosen for this perfectly capture the essence of the film and the relationship between Ladybird and her Mother. This first trailer almost plays like an odd short film, which for the style of this one is a perfect compliment. In short, it was a beautiful trailer for a beautiful film.
A24 / Via youtube.com
Black Panther, Official Trailer #1
If you weren't hype after watching this trailer I have bad news for you, much like "the old Taylor," you're dead. A showcase of talent on all fronts, the full-length trailer for Black Panther was easily the best trailer of the year, IMO. Like, I cannot stress enough, the expert use of Gil Scott-Heron's "The Revolution Will Not Be Televised" made all of my eggs drop. February 2018 cannot get here fast enough.
Marvel Studios / Via youtube.com