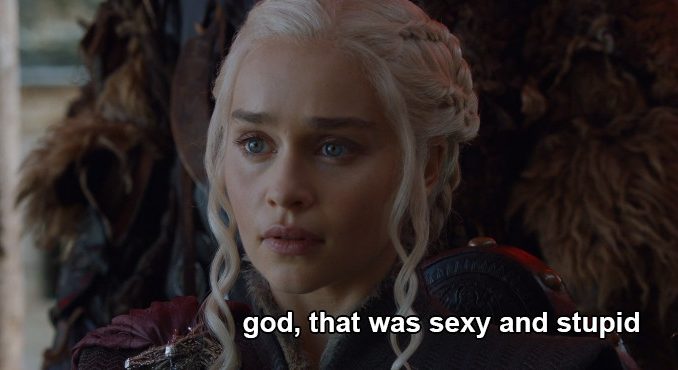 1. I feel emotionally unequipped for this.
2. But hey, at least Grey Worm is definitely still alive.
3. Should they be preparing barrels of presumably very flammable oil against an army that has a dragon?
4. "It really is all cocks in the end." There's a sad fucking truth.
5. "Why would anyone want to live like that?" Jon's such a country boy.
6. Wow did Cersei just put Brienne at the top of her kill list? Brienne's got some status.
7. TYRION/POD REUNION!!!
8. It just wouldn't be a Podrick scene without a mention of his legendary wang.
9. OH MY GOD THE WAY THEY'RE TALKING ABOUT ARYA.
10. THE HOUND'S SMILE.
11. That was nice. Now, back to feeling a sense of overwhelming dread.
12. You guys, Cleganebowl has never been closer.
13. Also, Cersei is serving up LOOKS.
14. Convenient how there's someone here for everyone to want to kill.
15. Wow. Awkward meeting thus far.
16. Haha of course Dany's making a fucking entrance.
17. So dramatic.
18. Euron is still king of all dipshits.
19. Jesus, if the fucking wight is dead…
20. Now THAT was a demonstration!
21. Cersei's look of shock and terror is so damn satisfying.
22. THAT'S what it took to get rid of Euron?
23. Jon, now would be a great time to just lie a little bit.
24. Like, just a tad.
25. Who thinks Jaime's gonna stab his sister by the end of this episode?
26. Literally everyone is telling Jon how dumb he is.
27. Because he is the dumbest.
28. For someone who isn't Ned Stark's son by blood, he sure does all the same dumb stuff Ned did.
29. I like how both Tyrion and Jaime are like, "yeah, she'll prob do a lil' murder rn."
30. Hoo boy she's thinkin' about it.
31. STRAIGHT FOR THE WINE.
32. They're really so alike, aren't they?
33. Well, at least Jon's smart enough to realize that the "witch who murdered her husband" probably isn't the most trustworthy source of info.
34. Also, that's a weird way of hitting on someone. "Wanna prove that witch who murdered your husband wrong?"
35. Holy shit, is Cersei actually doing something good?
36. Can't help but think there's a secret plot.
37. Don't trust it.
38. Speaking of not trusting, WHY IS SANSA STILL HANGING OUT WITH LITTLEFINGER?
39. Just so dumb, Sansa. So dumb.
40. Theon's working hard for that pat on the back from Jon.
41. So Theon's good at taking hits at least.
42. Ya can't nut-punch a eunuch!
44. Come on, Sansa. You can't possibly be doing this.
45. OH SHIT.
46. OH SHIT SON YOU JUST GOT STARK'D!
47. So, did Bran finally tell Sansa some stuff?
48. OH, LOOK WHO'S FINALLY BEING USEFUL.
49. She done out-Littlefingered Littlefinger.
50. Dude, don't try the "I loved your mother" thing. That's gonna make it worse.
51. TAKE HIS FACE GIRL.
52. FUCK YESSSSSSSSSSS.
53. Arya made it hurt. That was not quick or painless.
54. That made me feel good and this show has made me a bad person.
55. OK now Jaime needs to do the same thing.
56. Stabby-stab time, Jaime.
57. Dammit, I was really hoping that Euron was really that scared.
58. So many character redemptions today!
59. I'll be honest, I really thought Jaime was a goner there.
60. Snow has never looked so terrifying.
61. Heyyyyy, R+L=J is finally, officially confirmed!
62. Jon Sand doesn't sound as cool.
63. But HE AIN'T A BASTARD ANYWAY.
64. IT'S RHAEGAR!
65. Oh man, they're really gonna do this sex scene RIGHT AFTER we just confirmed that they're aunt and nephew, aren't we?
66. JON'S NAME IS AEGON.
67. This is weird it's making me feel weird help it's so weirrrrrd.
68. I like Jon Snow better than Aegon Targaryen, honestly.
69. We've had enough Aegons.
70. I have a lot of feelings about all this. I am both confused and aroused.
71. And I have a very BAD feeling about Tormund being on the Wall right now.
72. Tormund, get out of there. You have to make monstrous babies with Brienne.
73. FUCK, THEY'RE HERE.
74. RUN YOU BEAUTIFUL GINGER BASTARD.
75. Oh god.
76. Oh no.
77. BLUE EYES ICE DRAGON.
78. It looks so cool but it's so bad for everyone and everything.
79. Dammit why does it have to be so cool?
80. Well, shit.