SPOILERS!
We learned about Jingle Jangle:
There's a new drug in town, and it's called JINGLE JANGLE. It's part Viagra/part pixie stick, but the best part of it is that this cast now has to say JINGLE JANGLE with a straight face all season long.
CW
Penny Peabody saved the day:
The good news: Penny Peabody is the only fuckin' lawyer who happens to know the one loophole that would get F.P. out of jail.
The bad news: Her name is Penny Peabody.
The even badder news: She's evil.
CW
Archie found out how Miss Grundy died: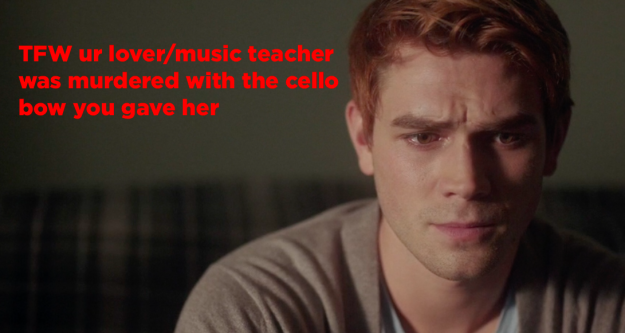 woopsies!!!!!
CW
Smithers is gone and I'm not okay:
I know Hiram Lodge has done a lot of fucked up things, but the worst one has to be getting rid of Smithers, the greatest character since Gossip Girl's Dorota. #JusticeForSmithers
CW
Their milkshakes brought all the boys to the yard: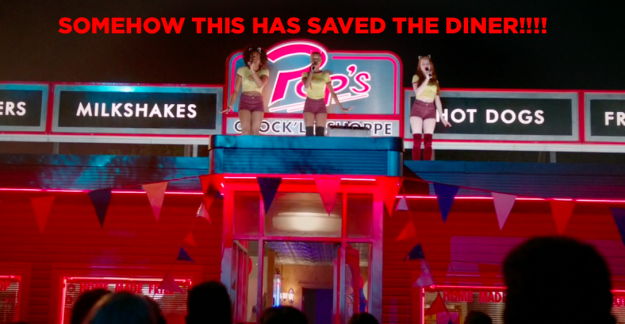 This seemed dangerous, but I'm glad that Melody finally got a few speaking lines.
CW
Archie's got a gun:
For some reason, Dilton Doiley is the token GUN GUY of Riverdale and for some other reason he decided it was a good idea to give Archie access to a gun. This is not going to end well.
CW
Pour one out for Midge and Moose:
Don't do JINGLE JANGLE, because you will get shot and die. Don't do jingle jangle in the missionary position. Don't to jingle jangle standing up. Just don't do it…okay, promise?
CW
BONUS: THE TRUE DADDY HAS ARRIVED.