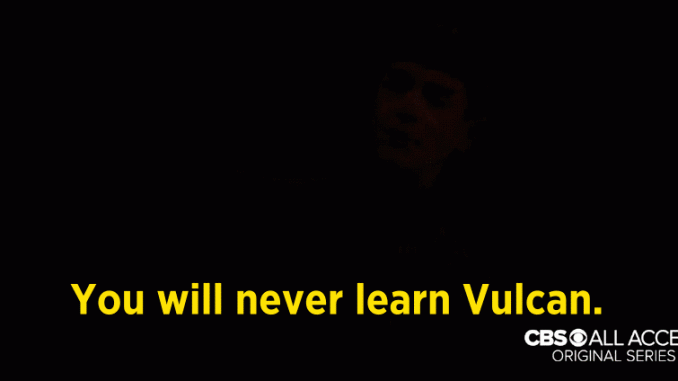 The debut trailer for Star Trek: Discovery — the first Trek TV series in 12 years — premiered today at CBS's upfronts presentation, and it left us with a lot of ~questions~.
1.

Is the show's lead character, first Officer Michael Burnham (The Walking Dead's Sonequa Martin-Green), part-Vulcan? And if so, is she related to Spock?!

Set 10 years before the events of the original Star Trek TV series, Discovery was likely to tantalize fans with its references to past (or, uh, future) Trek history. The biggest nod in this trailer is Sarek (James Frain), a Vulcan ambassador and the father of Trek's most indelible character, Spock.

Sarek appears multiple times in the trailer, speaking ominously to Burnham about "great unifiers" needing "a profound cause." He seems to be a mentor of some sort to her. Their most curious exchange even suggests that he's known her since she was a child, with a young Burnham wearing a classic Vulcan haircut, and Sarek telling her that she will "never learn Vulcan" because her "tongue is too human."

So does this mean Burnham is at least part-Vulcan? Sarek sired Spock with a human mother — perhaps her parentage is similar? Spock never had a sister within Trek canon, but perhaps she's his cousin?
The official poster for Discovery, prominently featuring the classic Vulcan salute, certainly reinforces the idea that Burnham's heritage is connected to Vulcan.
[Raises single eyebrow] Intriguing.
2.

Where is the USS Discovery?

According to CBS, Michelle Yeoh's character, Captain Philippa Georgiou, commands the USS Shenzhou. But Burnham is supposed to be the first officer on the show's namesake, the USS Discovery, captained by Gabriel Lorca (Jason Isaacs).

So, where is it? The trailer ends with the Shenzhou engaging the Klingons. Perhaps that encounter does not go very well?
3.

How much did they spend on this show?

After the series premiere airs on CBS, Discovery will appear exclusively in the US on the network's streaming service, CBS All Access. (In Canada, it will appear on Bell Media, and in the rest of the world, the show will air on Netflix.)

In order to make CBS All Access compete with the big streaming services, CBS plainly needs Discovery to pull in the millions of Star Trek fans who faithfully watched the many Trek TV shows during the franchise's heyday in the 1990s. The $5.99 per month service features about 12 minutes of ads an hour, and an ad-free version costs $9.99 per month — not a small amount of money to ask fans to pay for a single TV show.

And based on the copious, feature-film-quality visual effects in this trailer, it would appear CBS is willing to spend a lot of money to convince those fans to spend theirs.
4.

What is with all the lens flares?

In Aug. 2016, in his capacity as Discovery's showrunner and executive producer, Bryan Fuller told reporters that the show was set in the "Prime" Trek universe. Which is to say, it is not a part of the alternate universe of Paramount's recent Star Trek movies starring Chris Pine and Zachary Quinto.

But then Fuller left the show to focus on his commitments to the Starz series American Gods. He still has an executive producer credit, and he did write the scripts for the show's first two episodes, but in December he told Newsweek that he was not involved in the show's production at all.

Meanwhile, the Trek aesthetic most evoked by Discovery's trailer is indeed from the recent movie reboots — including swooping camera moves, sleeker uniforms and ship design, and all those lens flares made (in)famous by director JJ Abrams. (Alex Kurtzman, who co-wrote the first two of the Trek reboot movies, also serves an executive producer on Discovery.) Even if the show does remain in the classic Trek TV universe, its visual inspiration is clearly not drawn from the endearingly cheap design of those shows.
5.

What's the deal with the Klingon makeover?

The Klingons will play a key role in Discovery, likely centering on the efforts of T'Kuvma (Chris Obi, pictured), who is described by CBS as "the Klingon leader seeking to unite the Klingon houses."

But based on the trailer, the Klingons have gone through a rather extreme makeover.
Granted, the Klingons have certainly, um, evolved over time.
And the Discovery Klingons don't look quite as intense as the Klingons from 2013's Star Trek Into Darkness.
Paramount Pictures
But still…
@skylatron @StarTrek new look –who dis?! lol

— Jamar Edoho 🕴🏾 (@QuestLvLAwesome)
6.

And finally…WHAT ARE THOOOOOOOOOOOOOOOSE?

No, seriously, WHAT ARE THEY???
I love Trek, and I loved it.


I don't like Trek, and I loved it.


I love Trek, and I didn't like it.


I don't like Trek, and I didn't like it.


I'm just meh on all of it.

6 Burning Questions About The "Star Trek: Discovery" Trailer
SHARE YOUR VOTE!
Check out more articles on BuzzFeed.com!