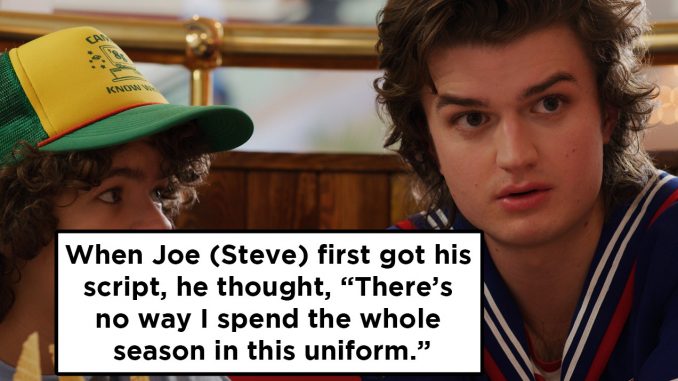 22. To help the actors get into an emotional or terrified headspace, the Duffer Brothers said that sometimes they play music that fits the mood.
23. The Starcourt Mall is actually a real, working mall. The show bought a piece of the mall to redo for filming.
24. People were also shopping in areas that weren't roped off while they were filming certain scenes.
25. On set, the kids started sliding down the space between the escalators at the mall, and the production team wasn't thrilled about it.
26. Millie said she's stolen socks from the Stranger Things set, while Noah Schnapp (Will) stole underwear.
27. Millie also said that her kissing scenes with Finn Wolfhard (Mike) came easily since they both felt like they were in a comfortable and safe environment.
28. They both added that there wasn't anything awkward about shooting those kissing scenes, either!
29. Millie always cries when a Stranger Things season wraps because she loves being on set and getting into her character so much.
30. Some of the lines Mike says to Eleven in the grocery store scene were improvised by Finn, who says he loves playing up the funny, awkward side of Mike.
31. Winona Ryder (Joyce Byers) was really happy to have a majority of her scenes with David (Hopper), but she did miss working with the kids.