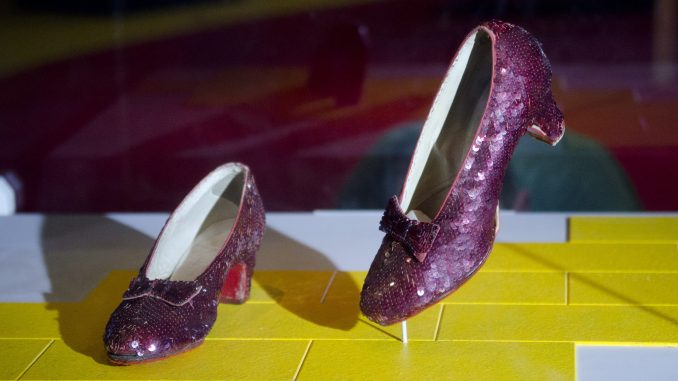 The ruby slippers that whisked Dorothy back to Kansas in three clicks are looking a little down at the heels, prompting the Smithsonian to launch a $300,000 online campaign to conserve them.
Museum officials started a Kickstarter fundraising drive Monday to repair the iconic slippers from 1939's "The Wizard of Oz" and create a new state-of-the-art display case for them at the National Museum of American History.
The sequined shoes were crafted almost 80 years ago by the MGM Studios prop department and have grown fragile over time. The fundraising page says the color has faded and some threads affixing sequins have snapped.
A photo of the Ruby Slippers from 'The Wizard Of Oz' are taken off view from the Smithsonian's National Museum of American History to appear in the 'Hollywood Costume' exhibition at the Victoria and Albert Museum in London at National Museum Of American History on October 9, 2012 in Washington, DC (Getty Images)
The campaign, dubbed "#KeepThemRuby," offers donor rewards ranging from T-shirts and tote bags to replica slippers and behind-the-scenes tours.
This isn't the Smithsonian's first Kickstarter drive. In 2015, it raised $700,000 to conserve Neil Armstrong's spacesuit.