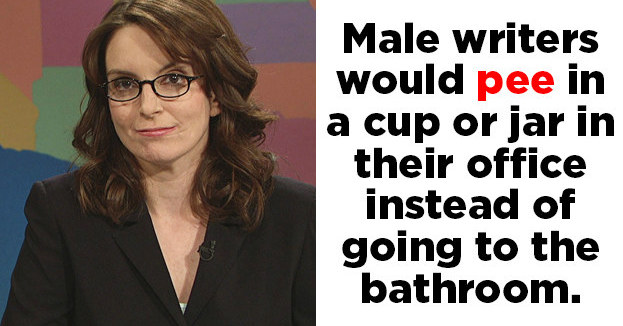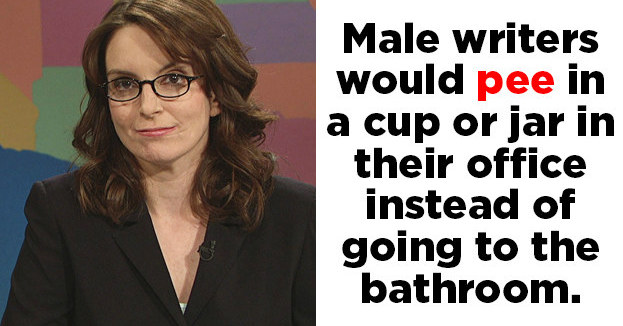 1. In the show's early days, writing sessions, which take place on Tuesdays, were drug-fueled all-nighters, although that's no longer the case.
2. Male writers have been known to pee in a cup or jar in their office instead of going to the bathroom.
3. Lorne Michaels created SNL after Johnny Carson asked NBC execs to air his "Best of Carson" reruns on weeknights, thereby allowing him to go on vacation, instead of on the weekend.
4. The opening line is "Live from New York, it's Saturday Night!" — not "Live from New York, it's Saturday Night Live!" — because there was already a show on ABC called Saturday Night Live when SNL debuted on NBC in 1975.
5. The "home base" stage, which is used for both the cold open and the monologue, must be entirely transformed in just one minute and 42 seconds during the opening credits.
6. Studio 8H was originally a three-story radio studio home to the NBC Orchestra, but it was converted into a TV studio in the 1950s.
7. The elevators leading to Studio 8H are so small that, if a car is needed for a sketch, it must first be cut in half, brought up in two pieces, and then reassembled.
8. Some of the seats used by the studio audience are old seats from Yankee Stadium.
9. Of the 40 to 50 sketches written every week, only about eight make it on air.
10. When the show shoots in the hallway outside the studio, you can almost always see Abe Lincoln, chorus girls, and a llama in the background — a gag conceived by Seth Meyers in the early 2000s.
11. Lisa Kudrow, Kathy Griffin, Stephen Colbert, Steve Carell, and Jim Carrey all auditioned for — and were rejected by — SNL.
12. Mindy Kaling, on the other hand, auditioned to be on SNL, but was offered a writing position instead; however, because she was a writer for The Office, she had to turn it down.
13. Just one of Seinfeld co-creator Larry David's sketches made it to air during his time as a writer for the show.
14. Parade magazine estimated that cast members earned up to $24,000 per show in 2017, although the amount varies based on seniority and writing credits.
15. Alec Baldwin, who often plays President Trump, earns just $1,400 for each appearance.
16. In 1999, Tina Fey became the first female head writer in SNL's 25-year history.
17. Rachel Dratch got the idea for Debbie Downer while on vacation when someone asked her where she lived and if she had been in New York on Sept. 11.
18. Eddie Murphy, a cast member in the early 1980s, single-handedly saved SNL from cancellation following Lorne Michaels's departure in 1980, according to James Andrew Miller, author of Live From New York: An Uncensored History of Saturday Night Live.
19. When a famous person sneaks up behind the cast member imitating them, it's called a "sneaker upper," and the writers for the show hate it.
20. When Chevy Chase returned to host SNL after having left the cast a year prior, he got into a fistfight with Bill Murray, who called him "medium talent."
21. At least seven celebrity couples — including Scarlett Johansson and Colin Jost, Emma Stone and Dave McCary, and, yes, Ariana Grande and Pete Davidson — have met through SNL.
22. SNL has taken its show on the road only once: It broadcast live from New Orleans for Mardi Gras in 1977.
23. Only a few sets, like the Oval Office, are saved and reused; most are destroyed after each show.
24. After-party attendees — including cast members — have to pay for their own food and drinks.
25. And finally, Lorne Michaels's assistant occasionally asks cast members to fill in empty seats at the creator's table so it appears full at the after-party.