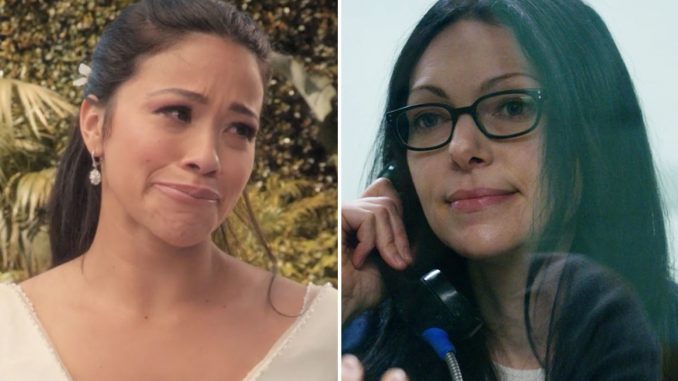 🚨Obviously MASSIVE spoilers ahead!🚨
2.
Also on Jane the Virgin, Petra and J.R. got back together after Rafael called J.R. and told her Petra still loved her.
3.
And, Jane the Virgin FINALLY revealed that Mateo has been the Narrator the entire time — honestly, it was a flawless series finale.
4.
The Andi Mack series finale featured T.J. and Cyrus becoming a couple, which makes them Disney Channel's first openly gay teen couple.
6.
Also on Orange Is the New Black, we have to give a shoutout to Danielle Brooks and Natasha Lyonne, who gave heartbreaking performances as Taystee and Nicky.
7.
And, Orange Is the New Black ended with the return of some beloved characters when Alex was transferred to a prison in Ohio.
8.
The 100 said goodbye to an original character when Abby was killed in order to resurrect Simone, one of the Primes.
9.
The Handmaid's Tale was shockingly uplifting when Fred was arrested after he crossed over into Canada in an attempt to get Nichole. What was even sweeter was that Serena Joy set him up. Praise be.
10.
Also on The Handmaid's Tale, June killed Commander Winslow after he attempted to rape her while she was at Jezebels.
11.
On Agents of S.H.I.E.L.D., Daisy learned that as Sarge's powers increase each time he's killed, more of Coulson's memories return.
12.
On the iZombie series finale, Liv, Ravi, Clive, Major, and Peyton succeeded in finally getting a zombie cure to the people of New Seattle.
13.
Also, iZombie ended with a 10-year time jump where we learned that Liv miraculously survived an explosion at the morgue and reunited with Major. Meanwhile, Ravi, Peyton, and Clive moved out of Seattle and kept Liv and Major's survival a secret.
14.
On Euphoria, after Rue realized that Nate was Tyler, she wanted Fez to threaten him. Fez confronted Nate, which led to Nate calling the cops on him.
15.
Also on Euphoria, Cassie learned that she's pregnant and heartbreakingly told McKay.
16.
On Good Trouble, Davia confessed to Alice that she loves Dennis and I'm very emotional about it.
17.
Also on Good Trouble, Gael learned that Jamie was the one who purchased his painting and confronted Callie about it — this sets up next week's summer finale.
18.
Mindy Kaling's TV adaptation of Four Weddings and a Funeral started streaming on Hulu. The pilot alone was filled with numerous classic rom-com references.
19.
Also on Four Weddings and a Funeral, Andie MacDowell guest starred as Ainsley's mother — of course, Andie starred in the original 1994 movie.
20.
The Boys started streaming on Amazon this week. The new series is based on comic books of the same name and follows a group of vigilantes who set out to take down corrupt superheroes who abuse their superpowers.
21.
On Younger, Enzo proposed to Diana, who happily accepted.
22.
On Pose, Angel and Lil Papi's romance finally kicked it into gear after Angel booked a modeling gig.
23.
And finally, on Grown-ish, Aaron continued his "Black Minds Matter" movement by hosting an amazing gala that featured an appearance by Joey Bada$$.
What were your favorite TV moments this week? Tell us in the comments below!