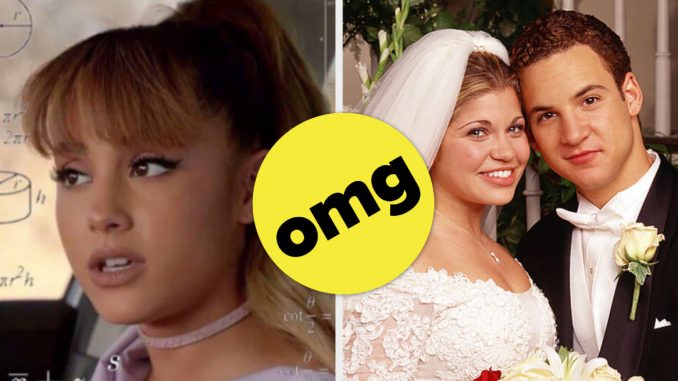 1.
Today, Will Smith is not only older than James Avery (Uncle Phil) was when The Fresh Prince of Bel-Air first aired, he is also as old as James was when the series ended.
2.
While Tatyana Ali is now older than the original Aunt Viv (Janet Hubert) was when she first played Tatyana's mother on The Fresh Prince of Bel-Air.
3.
In less than a year it'll be the 20th anniversary of both Even Stevens…
4.
…and Malcolm in the Middle — which officially makes them old-school TV shows.
5.
If The Golden Girls were made today, Molly Ringwald would be old enough to play Blanche.
6.
While Jenifer Lewis would be old enough to play Sophia.
7.
Reminiscing about your favorite episode of Full House today would be like someone reminiscing about their favorite episode of The Dick Van Dyke Show in the early '90s.
8.
If Fuller House were to pay homage to the Full House episode were The Beach Boys guest-starred, then they could have No Doubt or Blink-182 on and it would make sense timeframe-wise.
9.
If Freaks and Geeks was created today and set the same number of years back, it'd take place in 2000–01 (which is also weird 'cause the show was cancelled in 2000).
10.
And if Happy Days were created today and set the same number of years back, it'd take place in 2000.
11.
This year marks the 30th anniversary of Saved by the Bell 😱!!!
12.
And if the show turning 30 didn't fuck with your head enough, then learning that Mark-Paul Gosselaar (Zack) is older today than Dennis Haskins was when he first started playing Mr. Belding probably will.
13.
Jaleel White is now older than Reginald VelJohnson was when Family Matters first premiered.
14.
This year Jonathan Taylor Thomas will be as old as Tim Allen was when he first starred on Home Improvement.
15.
JTT is also older now than Richard Karn (who played Al) was when Home Improvement premiered.
16.
Aimee Carrero who voices She-Ra on Netflix's She-Ra and the Princesses of Power, wasn't even born when the original version of the cartoon was on.
17.
Freshmen entering college this fall have always lived in a world where SpongeBob SquarePants and Dora the Explorer have always existed.
18.
Most freshmen entering high school this year have always lived in a world where Grey's Anatomy has always existed.
19.
And there has never been a new episode of Friends in their lifetime.
20.
Speaking of Friends, Cole Sprouse is now older than Jennifer Aniston was when she first appeared on the show.
21.
And finally, this year marks the 20th anniversary of Cory and Topanga!!!!