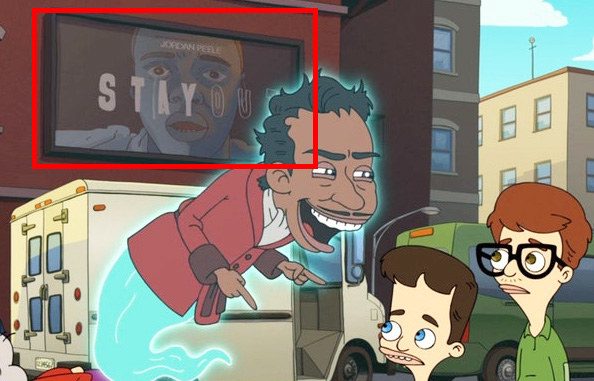 Did you know Ron Swanson is referenced in The Good Place?
Warning: Some mild spoilers ahead!
In Big Mouth, you can see a poster for a fictional Get Out sequel called Stay Out. Jordan Peele actually voices a character in the show.
Netflix
In The Good Place, the safe Jason buys is from the Swanson Safe Company, a nod to Ron Swanson from Parks and Rec.
Mike Schur is the creator of both The Good Place and Parks and Rec.
NBC
Also in The Good Place, you can see a Dennis Feinstein perfume ad, another nod to Parks and Rec.
NBC
In That '70s Show, one of the doctor's names is K. Ashton, the inverse of Ashton Kutcher's name.
Fox
Fox
In Friends, Joey and Ross reminisce about a beer they drank while in England. Later in the series, you can spot a six-pack of it on top of Joey's fridge.
NBC / Amazon UK
NBC
In an episode of Roseanne, each member of the Connor family is seen wearing the same chicken t-shirt, which became a running gag on the series.
ABC
In the episode of It's Always Sunny in Philadelphia called "The Gang Goes to Hell," their hotel room number is "H666."
FX
In The Office, Dwight puts Creed's name in quotes on his management hierarchy chart, suggesting that he always knew "Creed" was a false identity.
NBC
In Brooklyn Nine-Nine, it's revealed that the new captain is "too stupid to work the blinds." Later in the episode, you can see the blinds in the background aren't closed properly.
Fox
In The Office, the Scranton branch is located on Slough Ave. The Office U.K. was set in Slough, Berkshire, England.
NBC
Champion from Parks and Rec makes an appearance in an episode of The Office.
NBC
In a flash forward on How I Met Your Mother, you can see a newspaper clipping behind Marshall implying that he eventually captured the Loch Ness monster.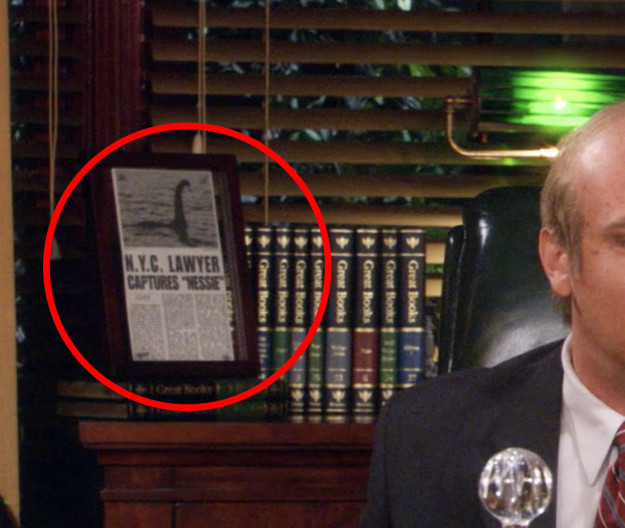 CBS
In Seinfeld, this is shown on the fridge when Jerry is trying desperately to remember his girlfriend's name.
NBC
In New Girl, this news segment is a nod to Zooey Deschanel giving birth to her daughter, Elsie Otter.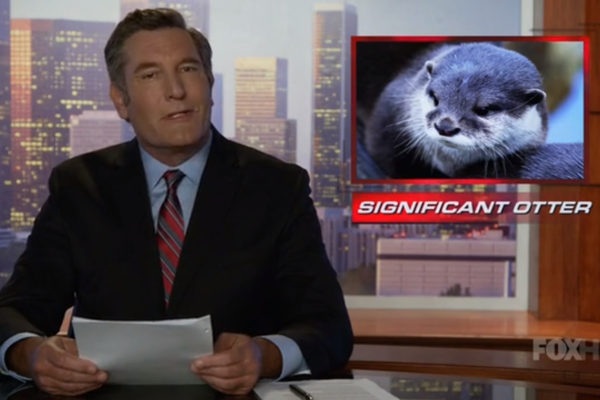 Fox
In Arrested Development, Buster's loss of his arm is foreshadowed when he sits on this bus bench.
Fox
And finally, in Parks and Rec, one of the trick-or-treaters at Andy and April's is dressed as Chris Pratt's Marvel character, Star Lord.
NBC