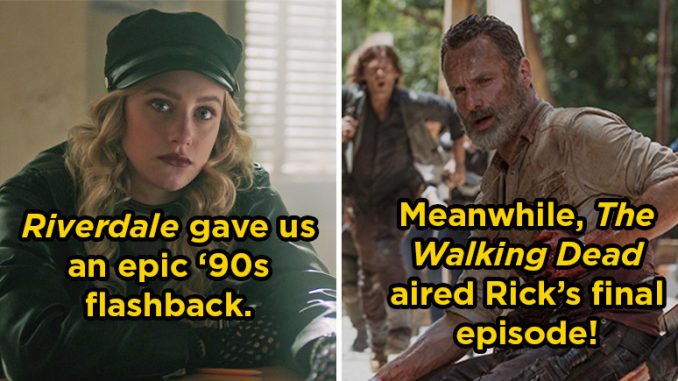 🚨Warning: Spoilers ahead!🚨
1.
First, Riverdale travelled back to the '90s and we learned how the parents were involved in Gryphons and Gargoyles — the entire episode was honestly one of the best.
2.
In particular, Lili Reinhart did an amazing job portraying teen Alice's days at Riverdale High.
3.
The Walking Dead closed a door on a monumental chapter when Rick Grimes sacrificed himself to save his family.
4.
Also, Scott Wilson made his final TV series appearance when Rick hallucinated Hershel and apologized for everything Maggie had been through.
5.
While this episode was a goodbye to Rick, Maggie also made her final appearance after finally confronting Negan about Glenn's death — a superb performance from both Lauren Cohan and Jeffrey Dean Morgan.
6.
And finally, The Walking Dead looked toward the future when they jumped six years into the future and we saw a grown-up Judith Grimes!
7.
Grey's Anatomy gave us a heart-wrenching episode centered on the nurses at Grey-Sloan and I was crying.
8.
Also, James Pickens Jr. gave us a memorable Grey's Anatomy moment when Richard's anger and grief finally reached a breaking point and he destroyed a bar.
9.
In The Good Place, Michael showed Eleanor the reboots where she fell in love with Chidi.
10.
Also in the reboot, Eleanor picked a lizard as a pet and we got this hilarious unscripted moment when the lizard climbed on Kristen Bell's head.
11.
Outlander kicked off Season 4 and left us with a memorable final sequence when Stephen Bonnet robbed Jamie and Claire while they were traveling to North Carolina.
12.
In Arrow, we learned more about the future when an older Dinah informed William that Felicity Smoak was (possibly) dead.
13.
Modern Family delivered another twist this week when Haley learned that she was pregnant!
14.
The final season of House of Cards started streaming with Claire Underwood officially saying goodbye to Francis and taking her (rightful) place as President of the US.
15.
Also, Richard Madden took our breath away in Bodyguard, particularly in the season finale scene when David had to negotiate for his life after a bomb was strapped to him.
16.
American Horror Story: Apocalypse set up its season finale next week when Mallory tried to vanquish Michael Langdon — it was amazing watching Billie Lourd hold her own up against Sarah Paulson.
17.
Also in AHS: Apocalypse, Cordelia mourned the loss of Violet and Queenie when Michael killed both of them — TBH, I never needed to see Cordelia cry over their dead bodies.
18.
Legends of Tomorrow delivered a twist ending when a magical being, Charlie, became trapped in a body that resembles Amaya.
19.
And finally, The Vampire Diaries alum Steven R. McQueen made his return in Legacies as Jeremy Gilbert when Alaric asked him to hunt down Landon and Rafael.
What were your favorite TV moments this week? Sound off in the comments below!