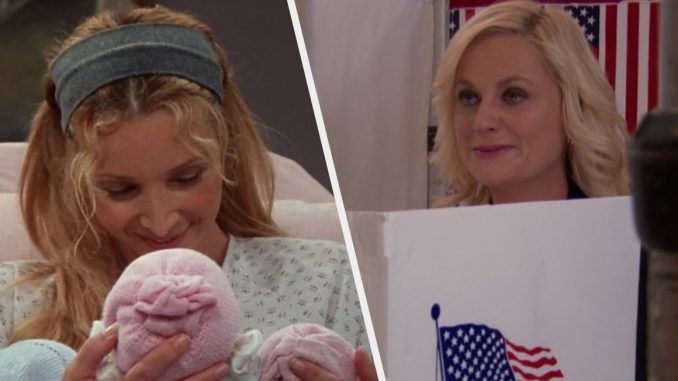 1.
In Friends, when Phoebe was alone after giving birth to the triplets.
2.
When Leslie voted for herself on Parks and Recreation.
3.
When Terry was wrongfully profiled a bad cop on Brooklyn Nine-Nine.
4.
When Will broke down in Uncle Phil's arms after his dad bailed on him again on The Fresh Prince of Bel-Air.
5.
In How I Met Your Mother, when Lily told Marshall his father passed away.
6.
In Fresh Off The Boat, when Jessica finally tells Louis that no one bought her book.
7.
In Futurama, when it's revealed that Fry's dog died waiting for Fry to return.
8.
In the series finale of Mozart in the Jungle, when Hailey realized how much Rodrigo sacrificed for her, proving that he did care about her, and she mistakenly broke up with him.
9.
In Scrubs, when Dr. Cox realized that he caused the death of two patients.
10.
In Will & Grace, when Will's dad died before Will could reconcile with him after they had a big fight.
11.
In Home Improvement, when Randy broke down in Tim's arms because he thought he might have cancer.
12.
In 8 Simple Rules for Dating My Teenage Daughter, when Kate read her husband's final news column to their kids after his funeral.
13.
In Modern Family, when Alex cracked from all the pressure she was under and collapsed in her mother's arms.
14.
In New Girl, when the gang goes to Candycane Lane and shouts for everyone to turn their lights on in order to cheer Jess up.
15.
On the season two finale of One Day at a Time, when Schneider tells Lydia how much their friendship means to him.
16.
In Schitt's Creek, when Patrick sings "Simply the Best" to David.
17.
In Chewing Gum, when Tracy cuts her hair in solidarity for Candice.
18.
In The Big Bang Theory, when Howard finds out his mother died.
19.
And finally, in The Office, when Michael was the only one to show up to Pam's art show, and then bough her painting after he told her he was proud of her.