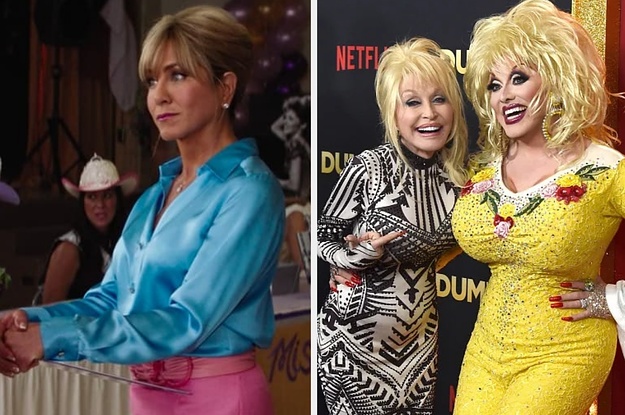 BuzzFeed had the opportunity to talk to Julie Murphy — author of Dumplin' — as she spilled some behind-the-scenes secrets about the cast and set! Here are a few fun facts we learned that made us want to watch it again…and again and again.
1.
Jennifer Aniston mistook one of the Dolly queens (Jason Cozmo, who impersonates Dolly regularly) for Dolly herself.
2.
Julie Murphy got to keep Rosie's beauty pageant sash and Will's name tag from Harpy's.
3.
Jennifer had a milk and cookies food truck sent to set during one of the long overnight filming days at The Hideaway.
4.
The scene with Will and Ginger where Will tears the scarves she's using for her magic trick was totally real.
5.
Anne Fletcher, Kristin Hahn, and the rest of the producers were so smitten with Ginger that they decided to expand the role they offered her and most of her lines were improvised.
6.
When Julie saw Maddie Baillio in Hairspray Live!, she immediately emailed the producers and asked them to figure out a way to use her for the movie.
7.
Almost the entire movie was filmed in Georgia.
8.
Dolly already owned a copy of Dumplin' before her manager even told her it was going to be a movie.
9.
Harold Perrineau's roll was the last and hardest roll to cast.
10.
The producers took the cast to a Sunday drag brunch so they could get to know each other.
11.
Julie Murphy has a cameo in the film! In one of the very last scenes, she can be seen sitting in between Ian, her husband, and Kristin Hahn, the screenwriter.
13.
Danielle and Jennifer recorded a song with Dolly Parton for the movie.
15.
Noah Centineo, who played Peter Kavinsky in To All The Boys I've Loved Before, kindly passed on the torch of "Internet Boyfriend" to Luke Benward, who played Willowdean's love interest, Bo.
16.
Danielle said a challenging part of this experience was nailing down the Texas accent (she is originally from Sydney, Australia) and she'd really try to practice hard on set.
18.
And finally, the cast really is one big, happy family.