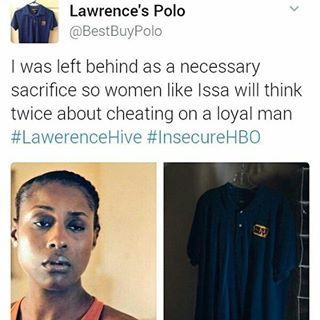 Well, that's a wrap for Season 1 of Insecure. And Black Twitter was feeling all types of things last night. We all just need to take a second to heal, 'cause goodness, it's a lot to unpack.
1.

That moment we had to get ourselves together for last night's episode:
Let me gather myself for the #InsecureHBO season finale. Last week had me all the way messed up.

— Courtney (@CourtneyCymone)
2.

Let's just take a moment to give props to Molly:
Because Molly still gon' ride for her best friend even when she mad #InsecureHBO

— B. (@BrionnaR22)
4.

When Lawrence THOUGHT homegirl wasn't charging…
That stripper gave Lawrence her rates and he was like #InsecureHBO

— Matthew A. Cherry (@MatthewACherry)
5.

…'cause he straight-up thought she wasn't about gettin' this money:
Lawrence thought the stripper liked him. SMH. Rookie. #InsecureHBO

— Charlamagne Tha God (@cthagod)
6.

When you realize last night's divide was similar to the recent election:
Men are celebrating. Women are regrouping like Democrats after the election "How? I don't understand." #InsecureHBO

— Idia Zaynab (@IdiaNotIndia)
7.

When Lawrence tells his boys about his endeavors:
Lawrence when he goes to his boy crib the next day … #InsecureHBO #LawrenceHive #TashaTheTeller

— Ave (@SebastianAvenue)
8.

When he was EXTRA petty:
Also, he's petty AF for taking "his" pillow. #InsecureHBO

— Blockavelli (@steenfox)
9.

Even Jay Ellis had an opinion about his character's decisions:
It's just good business practices applied to life Bruh. https://t.co/xArkANyuSv

— Jay Ellis (@JayREllis)
10.

And when we realized Lawrence wasn't really trying to work things out…
When you realize Lawrence didn't call Issa to say that he missed her. He called to see where she was at so he could… https://t.co/a6XhuoleNm

— Matthew A. Cherry (@MatthewACherry)
11.

…it was truly heartbreaking:
I guess #TashaTheTeller got her batteries 😩😢😔 #InsecureHBO

— Yvonne Orji (@YvonneOrji)
12.

When Lawrence's alter ego showed:
Lawrence: I should wait for Issa to get here and talk things out.

Inner Lawrence: Send the bank teller a "Hey big… https://t.co/iK4XRHppnN

— NUFF$AID (@nuffsaidNY)
13.

And he took all his stuff besides the Polo:
Lawrence left the Best Buy Polo in Issa's crib like Kelis left the green Dress for Nas!!!! #ByeBaby #InsecureHBO

— Jeff (@JeffJSays)
14.

BRUH: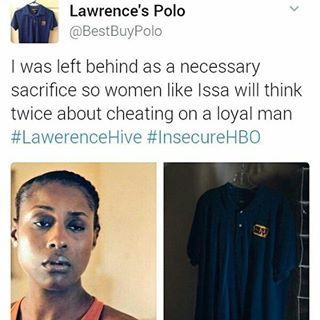 15.

Needless to say, we're all feeling some type of way.
This is basically the TL after watching tonight's episode of #Insecure

— Kim. (@_KimChanel_)
Check out more articles on BuzzFeed.com!