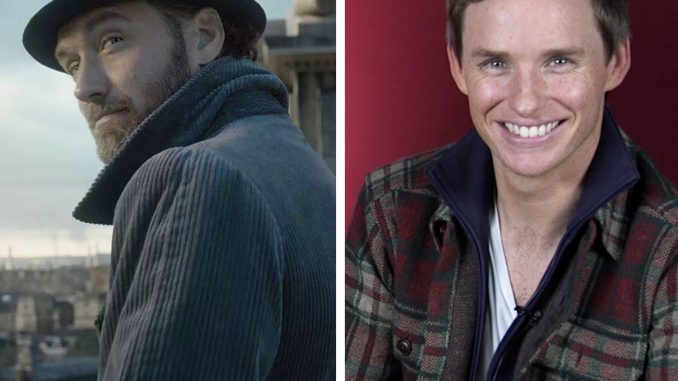 Ever since the first Fantastic Beasts film came out in 2016, we've been eagerly waiting to see what Newt and his friends will get up to in the rest of the series.
When BuzzFeed got the chance to speak with some of the cast — Eddie Redmayne (Newt), Katherine Waterston (Tina), and Jude Law (Dumbledore) — in London recently, we decided it'd be the perfect opportunity to get them to spill some behind-the-scenes secrets about Fantastic Beasts films.
1.
Jude Law first learned about the wizarding world after his stepson talked to him about Quidditch, and he thought it was a real game.
2.
The plot is kept so secret that the cast only got to see the script for the first time a few weeks before they started filming.
3.
Katherine Waterston was in LA working on another job when she got the script, and she dropped everything to read it.
4.
According to Jude Law, reading a script from J.K. Rowling was like nothing he'd ever experienced before as an actor.
5.
Eddie was so nervous on the first day of filming the first Fantastic Beasts that they had to stop production because he sweated so much.
6.
Jude started filming his scenes four or five weeks into the production, but still had to come to set for beard-length fittings.
7.
The first thing Jude Law filmed for Crimes of Grindelwald was the first look we get of Dumbledore in all the trailers.
8.
Eddie's first scene for Crimes of Grindelwald was a challenge, because he had to convey emotion while staring directly into the camera lens.
9.
Eddie learned to hold his breath for extended periods of time in order to film a scene underwater.
10.
But the scene ended up being very short in the final cut of the film, because he forgot all his training when he got to set.
11.
While the rest of the cast had wand movement training on the first film, Jude Law didn't because he didn't know it was available.
12.
But he did carry a stick around with him for an entire summer in order to get used to holding a wand.
13.
There was a scene where Leta and Tina team up to protect Newt and his case against some particularly malicious creatures, but it ended up being cut from the film.
14.
Jude would love to see a young Tom Riddle make a small appearance in a future Fantastic Beasts film.
15.
And given that Eddie Redmayne auditioned for the part of a young Tom Riddle in the original films, he thinks that would bring the whole thing full circle.