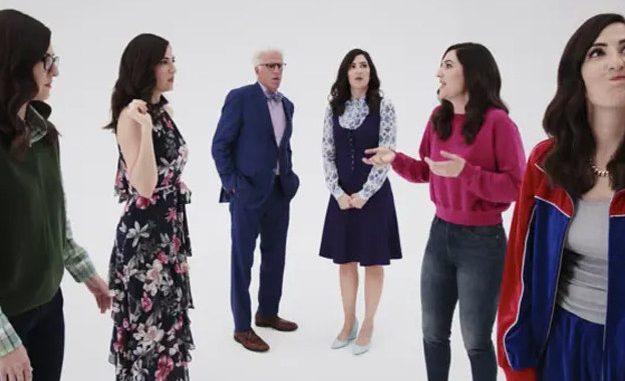 WARNING: CONTAINS SPOILERS!
BuzzFeed spoke with the show's creator, Mike Schur, and actress D'Arcy Carden (Janet) about this week's episode of The Good Place, and here are all the juicy facts they spilled!
1.
This episode took one year of planning to come to fruition.
2.
D'Arcy found it challenging to play Chidi, Eleanor, Jason, and Tahani because she didn't want to be over the top.
3.
The multiple Janets were partially inspired by Orphan Black, a series that features a bunch of clones.
4.
D'Arcy felt Tahani and Jason were easier to play, but Eleanor was a challenge because she's "so subtle." Will Harper (Chidi) was also hard because he has "a very distinct voice."
5.
Mike Schur knew they wanted Stephen Merchant early on for the role of Neil in this episode.
6.
There's a reference to Michael Scott's "World's Best Boss" mug from The Office.
7.
The accounting office that seemed to go on forever was filmed in what Michael Schur called "a ghost building" in Simi Valley.
8.
D'Arcy also recorded the table read of the episode and listened to it over and over for a month to get into each character. "I lost my mind," she said.
9.
Mike said the show had to pay "around fifty grand" to use a brief snippet of "Believe" by Cher.
10.
The cast wasn't on set that much during the shooting of this episode but they were on call in case D'Arcy needed them.
11.
For this episode, and others, the show's writers consult with two philosophy advisors (Todd May and Pamela Hieronymi), who try to break things down in a digestible way for the audience.
12.
The kiss moment was filmed on a "kissing rig," which D'Arcy described as a "pole with lips on a Lazy Susan."
13.
The Chidi/Janet/Eleanor speech was so heartfelt that D'Arcy teared up while performing it.
14.
As for what we can expect to come in future episodes, Mike Schur said, "Michael has more information now than he's ever had before. And they've finally made it to the REAL Good Place, so we'll see where that leads us."