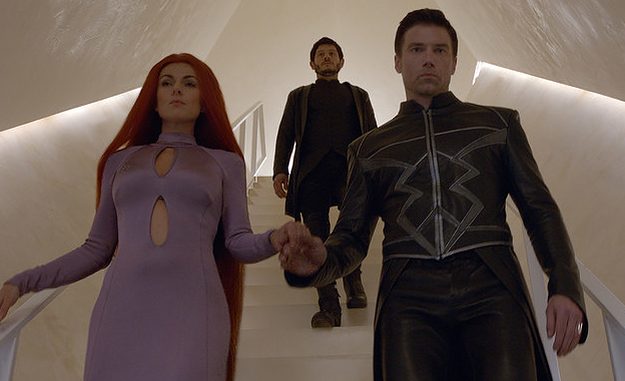 Netflix (Starts Nov. 3.)
Sarah Polley, the former child actor turned accomplished writer-director (Away From Her, Take This Waltz), was meant to turn Alias Grace, Margaret Atwood's 1996 novel, into a movie — in fact, Polley tried to buy the rights when the book was first published when she was only 17, but was turned down then. Alias Grace, clearly a passion project for Polley, expanded to a six-episode limited series that will be broadcast on Netflix (it will be on CBC in Canada beginning in late September).
Grace Marks, the main character, was a real person who in the 1840s was convicted of murdering two people in a conspiracy with another servant; she was later freed. Alias Grace is set in 1859, years after the conviction, when a group of Grace's supporters who think she's innocent hire Dr. Simon Jordan — an alienist, in the day's parlance — to examine her with the aim of exonerating her. (Jordan was a fiction of Atwood's making.) As Grace (Sarah Gadon) tells Dr. Jordan (Edward Holcroft of London Spy and the Kingsman movies) her story, we learn it too — and we also learn she's an unreliable narrator.
Grace is an Irish immigrant in Toronto who goes into domestic service as a teenager after her drunken father kicks her out of the house, and she she ends up at the home of Thomas Kinnear (Paul Gross, the star of Slings and Arrows, the most delightful show of all time, seriously don't @ me). Kinnear is in an illicit relationship with his housekeeper, Nancy (Anna Paquin), who has hired Grace so there's another woman in the house (people do gossip). And these are the two people she either willfully murdered or was in a hysterical state and — well, we don't know what happened! Grace's detailed narrative has an odd effect on Dr. Jordan; he finds himself so compelled and disturbed by her that he begins to lose his mind himself.
Polley, who wrote all six episodes, weaves Alias Grace's story expertly, raising questions about characters' motivations without hammering the viewer on the head, and twisting the plot to offer different viewpoints (even though there's really only one, which is Grace's). The acting is superlative. Gadon — in a role Polley herself might have excelled in, should she have chosen to — plays Grace as both an innocent and a possible manipulator, and as smarter than she's thought to be, which is difficult. Holcroft instills the largely passive Dr. Jordan with intelligence and sympathy — he's just listening to Grace, after all, though it's an act that starts to drive him mad. Gross and Paquin are appropriately icky, and Kerr Logan (Ser Davos's son from Game of Thrones) as Grace's possible co-conspirator is both menacing and dumb, which is right. Mary Harron (American Psycho) directed all six episodes, and they are beautifully rendered, with ugliness looming in the shadows. Harron and Polley's co-execution of Alias Grace comes together in a singular vision that plays with the conventions of costume dramas, but with subversive feminist twists throughout. —K.A.