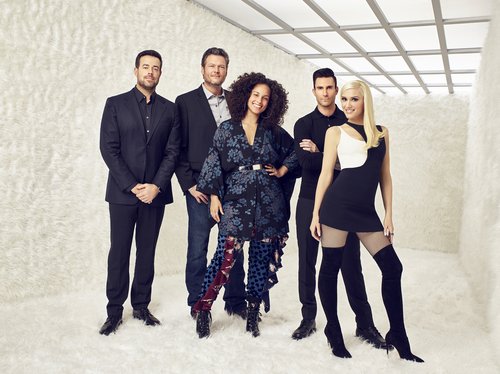 "The Voice" is back. NBC's singing competition returned on Monday night with a big season premiere.
There were two, four-chair turn during Monday night's show, and one young woman even found herself dueting with coach Alicia Keys.
Here's who made it through and joined Team Alicia Keys, Team Adam Levine, Team Blake Shelton and Team Gwen Stefani.
Contestant: JChosen, 29, Albany, Ga.
Song: "Sexual Healing" | Marvin Gaye
Who turned? Adam Levine, Alicia, Blake and Gwen – a four-chair turn
What happened with the coaches? All four coaches tried to win JChosen (Joshua) over to their team. Adam shared major praise, telling Joshua he could "win this show." Gwen complimented him too, saying what she heard in his performance "was so instinctual." While there was much more attempted swaying from Adam, in the end, Joshua shocked them all by picking Gwen. "Are you serious?" Gwen asked, as Adam collapsed in his chair in mock anguish.
Contestant: Lauren Duski, 25, Northern Mich.
Song: "You Were Meant For Me"| Jewel
Who turned? Adam, Blake and Gwen
What happened with the coaches? Adam complimented Lauren, telling her she had the "subtly and soulfulness that the winner of this show needs to have." Gwen said she'd try and get more of her personality out in her performance if she was picked as Lauren's coach. Blake suggested Lauren was someone "who clearly can win this thing." And, in the end, his argument won her over to Team Blake. "I picked Blake too," Gwen said adorably, after Blake added Lauren to his team. Adam couldn't help but tease his buddy afterward though, joking about his close proximity to Gwen – "Hey Blake, your girlfriend's sitting next to me."
Contestant: Johnny Hayes, 29, Mobile, Ala.
Song: "Try A Little Tenderness" | Otis Redding
Who turned? Adam and Gwen
What happened with the coaches? Adam was the first to recognize Johnny as a familiar face (Johnny tried out last season). Adam also made it clear to Gwen that he was going in for the hard sell, telling Johnny he loved Gwen "to death," but planned to "destroy" her to win Johnny over to his team. "I can't deal with not having you," Adam pleaded. But, Gwen had some backing as she made her case, with Blake suggesting Johnny should join her team. And Johnny picked … Adam!
Contestant: Anatalia Villaranda, 16, Temecula, Calif.
Song: "Runaway Baby" | Bruno Mars
Who turned? Alicia, Blake, Adam and Gwen – a four-chair turn
What happened with the coaches? Everyone was floored by the teenager's energy and vocal power, and since they could hear her family backstage, Blake invited them out. The coaches melted when they met her younger brother, who said how proud he was of his big sis. Once Anatalia's family went backstage again, the pitching began. Gwen said she related to the teen's energy and promised to bring out her personality and passion. Alicia told Anatalia she came across an "artist, unafraid to express herself." Adam said he believed Anatalia could win the competition (as a cricket sound played – Blake, was that you?). Blake then mentioned some of the things Anatalia's hometown is known for to show her he knew her city. "This is so hard. This is like picking cake," Anatalia said as she looked at all four coaches before joining Team Alicia.
Contestant: Stephanie Rice, 27, Texarkana, Texas
Song: "Piece By Piece" | Kelly Clarkson
Who turned? Blake and Gwen
What happened with the coaches? Immediately after Stephanie's performance, Gwen walked over to Blake's chair and waved her finger, seemingly suggesting she was going to get Stephanie on her team (prompting Adam to make a joke about feeling like a third wheel). Mentioning their shared names first – Stephanie and Stefani – Gwen complimented the singer on her emotional performance. Adam and Alicia threw their weight behind Team Gwen, and Blake almost resigned himself to losing Stephanie, noting she'd probably already made her decision and he was "good with it." She chose Gwen. (But, Blake said he'll be waiting to steal her if he gets the opportunity.)
Contestant: Mark Isaiah, 19, Mt. Pocono Penn.
Song: "Mercy" | Shawn Mendes
Who turned? Gwen and Adam
What happened with the coaches? Gwen was floored by the 19-year-old. "I can't believe you're not signed already," she said. Blake threw his support behind Gwen, telling Mark he believed he was "meant to be on Gwen's team." Adam complimented Mark's voice, commenting, "it's so obvious that you belong in the current landscape of pop music." Mark picked Adam.
Contestant: Brennley Brown, 14, Apple Valley, Calif.
Song: "Stupid Boy" | Keith Urban
Who turned? Blake and Alicia
What happened with the coaches? Blake pointed out he could help her make her mark in country music, while Alicia mentioned she too was just a teenager when she started out. She also pointed to her collaborations, like when she sang onstage at the ACMs in a Little Big Town tribute with Cam. But, Blake came back strong. "I have never been a guest artist at a country concert, because I am the country concert," Blake said. No surprise — the country music-loving teen, who cited a host of country stars as her influences when she first spoke to the coaches, went with Blake.
Contestant: Felicia Temple, 28, Teaneck, NJ
Song: "All I Could Do Was Cry" | Etta James
Who turned? Alicia, Blake and Gwen
What happened with the coaches? Felicia wowed the coaches with her pipes, but when she revealed she was once known as "Felicia Keys" in school, Adam suggested she duet with Alicia herself. The two got onstage and harmonized on "Fallin'." No one could compete with that. Felicia picked Alicia as her coach.