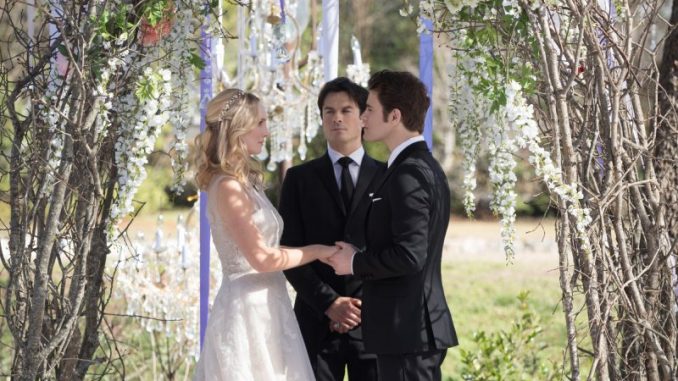 Friday's "The Vampire Diaries" episode – "We're Planning A June Wedding" – takes its name from a line Caroline Forbes said in the pilot after meeting Stefan Salvatore.
And that moment – although not in June – will finally happen for Caroline and Stefan on Friday night.
"It's funny because, you know, I had heard about this 'June wedding' for the first time at Comic-Con. I had no idea what everyone was talking about and I still kind of don't really know what it's about, but apparently there's some June wedding — like, the fans talk about a June wedding," Paul told reporters earlier this week, when AccessHollywood.com asked him to dish on filming the sequence.
"When they first told me that we were going to have a June wedding, I was like, 'Oh, cool. We're paying homage to the fans,' But yeah, it's kind of amazing. Stefan and Elena were like the pair for so many years and I never in a million years thoughts Caroline and Stefan would end up being that kind of – I don't want to say true love because I think true love can exist in many forms but I never knew that they would be equally as powerful," he added.
Candice King as Caroline, Ian Somerhalder as Damon and Paul Wesley as Stefan in 'The Vampire Diaries' (The CW)
"The Vampire Diaries" continues Friday at 8/7c on The CW. The series finale airs next week at 9/8c, after a retrospective special, which takes "TVD's" usual spot at 8/7c.