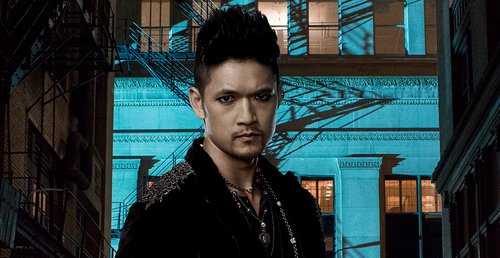 Thanks to a greater demon named Azazel, Valentine has escaped the Institute and is walking around inside the body of Magnus Bane on "Shadowhunters."
Harry Shum Jr. didn't have a long lead time before jumping into the new role of Valentine-inside-Magnus, but he enjoyed taking on the twist.
"I think I knew about it in the first episode, when we started shooting," Harry told AccessHollywood.com. "So, maybe like two weeks before or a week-and-a-half before we started the second [episode].
"It was fun to kind like of sink our teeth into it and it was great that we got to sit down and really like talk about it — kind of what direction we wanted to go," he added.
Harry said he met with Alan Van Sprang, who plays Valentine, and the episode's director, Bille Woodruff, before shooting the new episode.
"We sat down for lunch and just kind of discussed how we wanted to play it because when you hear that, you're like, 'Oh, OK, you just switch bodies,' but [there are] these more intricate and really kind of interesting layers on top of it and both of us are playing it very different because our motivation is completely different," Harry told Access. "Valentine-in-Magnus' body is trying to figure out how Magnus acts and functions and also, convincing people that he is Magnus while Magnus-in-Valentine's body is trying to convince [people] that he's Magnus. So, it's this weird kind of double take where we didn't want to play into kind of the idea of like, 'I'm just doing an impersonation of you.' It's all these little things that we had to kind of sprinkle on to that and it was really important to us to really have that play into the episode."
Harry watched tapes of Alan as he prepared to do his portrayal of Valentine-in-Magnus.
"I think [with] Valentine, there's little points where you've seen him kind of get really frustrated, but he has this calmness, where he's very calculating. He knows what he's going to do next. He's always two steps ahead and I wanted to give a little bit of that," Harry said.
"But also, this is something that he's never dealt with. This is beyond frustration. This is like, I'm trapped in the body of something I like, hate, and I'm trying to destroy. How do I react to this?" Harry said of how Valentine, a shadowhunter, feels being in the body of a warlock. "So that is what I wanted to really pull from … with Alan and getting those tapes, and at the end of the day, putting my interpretation on top of that."
"Shadowhunters" airs Monday at 8/7c on Freeform.