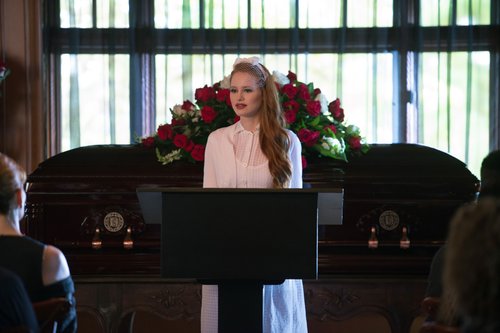 "Riverdale" fans are about to learn a lot more about Cheryl Blossom.
The "Heart of Darkness" episode takes viewers inside the world of the Blossom family as they prepare to say goodbye to Cheryl's late twin brother, Jason Blossom, with a memorial service.
"Her parents and her have a very terrible relationship that you see in [Episode] 5," Madelaine Petsch told AccessHollywood.com, when we spoke to her during the Television Critics Association Winter Tour earlier this year in Pasadena, Calif. "It's pretty brutal the way her parents treat her, and then the fact that she's lost her barrier, which was her brother, kind of makes her break down even more."
Many of the main characters in "Riverdale" have been dealing with tough home situations. Most recently, we learned that Jughead (Cole Sprouse) is homeless now that the drive-in he was living at has closed (and his dad, played by Skeet Ulrich, is a member of the Southside Serpents).
"[I]t gets so much rougher for Jughead — just you wait," Cole told AccessHollywood.com earlier this month, after Warner Bros. Television brought us to the set in Vancouver.
"You end up seeing a lot more of that narrative throughout the season," Cole continued. "Jughead, like his role in the town slowly but surely ramps up as a much more prevalent character throughout the season with his personal life being investigated really from Episode 7 onward and becoming one of the primary storylines, which … I think fans are really going to resonate with. But Jughead is this kind of Holden Caulfield, this tortured little youth, and I think people are really going to enjoy that."
Camila Mendes' character, Veronica Lodge, learned some dark family secrets recently. The "Riverdale" high-schooler just found out her imprisoned father, Hiram Lodge, through his wife, Hermione, paid the Southside Serpents to lower the value of the drive-in, so they could buy it cheaply.
"It's just disappointment," Camila said on the show's set, of Veronica's reaction to learning that information. "And it makes [her] start to question everything about who her parents are and what they're involved in and like, how much have they been lying to her? Is her mom in on it? How much [does] her mom know or how much is she playing like she doesn't know?"
One thing Veronica isn't aware of quite yet is that her mom has been getting closer with Archie's dad, Fred Andrews.
Back at TCAs, we asked KJ Apa, who plays Archie, and Cole about hints that viewers might see something between Fred and Hermione.
"Possibly," Cole said. "I mean, it's become apparent to me now that the parents' relationships are supposed to echo a shade of the children and the things that they're going through — that they're just more adult versions of issues that we're experiencing as younger, mirror-like images of our parents. So very much the same thematic narratives are going to be explored with the parents as well."
"And it's interesting like, all the kind of drama and all the conflict for the young characters on the show, a lot of the time you have the parents giving advice and stuff, but really, nothing really changes," KJ added. "They still have their own stuff to deal with and it's funny to see the two sides of it."
"Riverdale" continues Thursday at 9/8c on The CW.