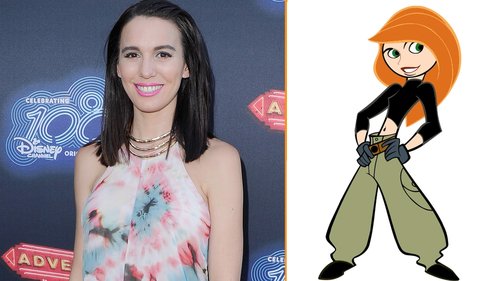 So not the drama, but Disney Channel's "Kim Possible" turns 15 today!
Christy Carlson Romano took to Twitter on Tuesday to express her excitement about the show's anniversary.
"'Kim Possible' turns 15 tomorrow," she tweeted. "Feeling nostalgic."
Christy also told Access Hollywood in a statement what her favorite part about working on the series was.
"My favorite part of being a part of 'Kim Possible' was getting to be a powerful female role model for fans of all ages," her statement read.
"The characters, writing, animation, and voice acting were really sharp. Bob and Mark, the creators of the show, did a great job assembling a strong, synergistic team. Kim became a staple for households worldwide because these were everyday, relatable characters, who just so happened to be crime fighters," she continued.
"It's the kind of stuff kids daydream about, 'You know what would be fun to do after 5th period? Fight crime.' Also, every character I played working for Disney was a strong, capable female (Kim, Ren, Jennifer Stone). I'm proud of that and I think it's something that transcends time and still makes Kim feel like it came out yesterday," the statement concluded.
The show's Emmy-winning creators Bob Schooley and Mark McCorkle also spoke out on the series' big day, telling Access Hollywood in a statement why they think it's still so beloved.
"I think one of the reasons why 'Kim Possible' endures is that kids just identify with those characters as real. I think part of Disney storytelling is those characters transcend in terms that make you forget they're cartoons and you start engaging with them as if they're real people. And I think a lot of people had somebody on that show that they identified with because of the way they were portrayed," their statement read.
The Emmy-winning duo are teaming up together again on Disney XD's "Big Hero 6 The Series," based on the Disney feature, which will debut this fall.