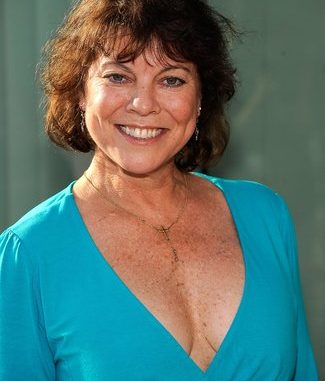 Erin Moran, the former child star who played Joanie Cunningham in the sitcoms "Happy Days" and "Joanie Loves Chachi," has died. She was 56.
Moran was found dead Saturday by emergency responders after a dispatcher for the Harrison County, Indiana, sheriff's department received a 911 call, the department said. The cause of death has not been determined. An autopsy is pending.
A Burbank, California, native, Moran began acting in TV and movies before she was 10 years old. She had several years of experience when she was cast in 1974 in "Happy Days" as Joanie Cunningham, the kid sister to high school student Richie Cunningham, played by Ron Howard, who went on to become a successful filmmaker.
Her more recent credits included "The Love Boat" and "Murder, She Wrote," but she never approached the success of "Happy Days" and was more often in the news for her numerous personal and financial struggles and was reportedly homeless at times.
"Such sad sad news. RIP Erin," Howard tweeted Saturday. "I'll always choose to remember you on our show making scenes better, getting laughs and lighting up TV screens."
"Happy Days'" Cunningham Family (ABC)
Other "Happy Days" cast members included Tom Bosley and Marion Ross as Joanie's parents and Henry Winkler as the loveable tough guy Arthur "The Fonz" Fonzarelli.
"What happened with all of us was like we were this family," Moran told Xfinity in 2009. "It was so surreal with all the cast members. … They were my family, get it?"
Debuting at a time of nostalgia for the seemingly innocent 1950s, the sitcom was set in Milwaukee and became a long-running hit. Howard and Winkler were the show's biggest stars, but the smiling, freckle-faced Moran also became popular.
In 1982, she was paired off with fellow "Happy Days" performer Scott Baio in the short-lived "Joanie Loves Chachi." Moran returned to "Happy Days" in 1984, the show's final season.
"I would love to do a feature (film), I'd love to do a play," she told CNN in 1981 when asked what she'd like to do after "Happy Days."
In 2011, she and Ross and former "Happy Days" actors Anson Williams and Donnie Most sued CBS, saying they were owed money for merchandising related to the show. The lawsuit was settled the following year.
Moran told Xfinity that she had been working on a memoir, called "Happy Days, Depressing Nights."
"OH Erin… now you will finally have the peace you wanted so badly here on earth," Winkler tweeted Saturday. "Rest In It serenely now.. too soon."