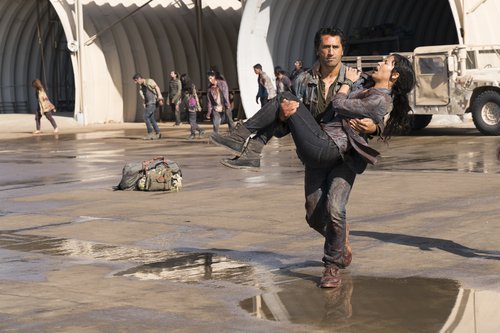 "Fear The Walking Dead" returns for Season 3 on Sunday night and viewers won't have to wait long to find out exactly where Nick (Frank Dillane) and Luciana (Danay Garcia) ended up following that Season 2 cliffhanger.
"[You find out] almost immediately," Executive Producer Robert Kirkman told AccessHollywood.com. "This is the season where we really hit the ground running. I think that that cliffhanger is answered — I think — in the teaser actually. So yeah, we're not going to be holding our cards too close to the vest and we'll really be kind of setting the stage for the season in a big way right off the bat."
There's an expansion happening in the world of "Fear" Season 3 similar to the one that happened in the show that introduced AMC television viewers to the post-apocalypse walker world – "The Walking Dead."
"If you look at the parent show, you've got The Prison and Woodbury and the Governor and Michonne … the return of Merle, a lot of big elements pulled into the show at that time, and this season of 'Fear the Walking Dead' is no different," Kirkman said. "There's a lot of new set pieces, a lot of new characters, the scope is much larger and I really do strongly feel like this show is also hitting its stride in Season 3."
Season 2 saw Madison (Kim Dickens), Travis (Cliff Curtis) and Alicia (Alycia Debnam-Carey) searching for Nick after fleeing the hotel because of Travis' actions.
Travis broke after learning of the death of his son Chris. He killed the two men his son previously left with in Season 2, and injured a man at the hotel who later died. The incident forced his family (Madison and Alicia) to have to flee the hotel. In Season 3, Travis will continue to face tough times.
"I think that Travis is at a place where his stability kind of comes and goes," Kirkman said. "He has certainly, in contrast to Madison, taken things much more to heart and things have affected him far more as we see in this season."
While Travis continues to struggle with the post-apocalypse world, Madison's daughter Alicia is growing stronger.
"There's definitely a maturity that's emerging in her and she's going to become an asset to Madison in a way that Madison probably doesn't really expect," Kirkman said. "I think that over the course of the two seasons we've seen her grow in some pretty interesting ways and that growth is going to continue in this season as she becomes much more capable and much more of a fighter."
Strand (Colman Domingo) chose to stay behind at the hotel at the end of Season 2, but is he off on a solo journey?
"He kind of strikes on his own and we'll be following that story to some pretty interesting conclusions. But, these characters are constantly being pulled apart and come back together in interesting ways. So I wouldn't say that our characters will never encounter Strand again, but he will have a pretty interesting arc this season," Kirkman said.
"Fear the Walking Dead" returns with a two-hour Season 3 premiere on Sunday night at 9/8c on AMC.