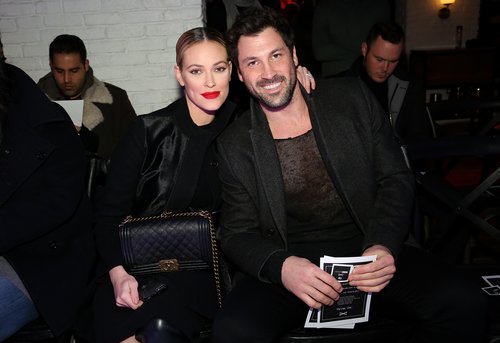 New parents Maksim Chmerkovskiy and Peta Murgatroyd have confirmed they are returning to "Dancing with the Stars."
The pros appeared on "GMA" on Tuesday to share the news.
Asked by "GMA" host Robin Roberts if she was nervous to return to the ballroom after a little time away, Peta said she was, but she can't wait to get back into it.
"I'm definitely a little bit nervous, but I'm very excited to get back. I've definitely missed the dance floor and I haven't been able to defend my title with Nyle [DiMarco], so I want to get back out there," Peta said, making a reference to taking home the mirrorball in Season 22 (she took last season off while pregnant with baby Shai).
Peta gave birth to Shai, her first child with fiancé Maks, back in January. And Peta told the "GMA" hosts she's most concerned about being healthy as she rehearses with Maks ahead of being paired up with a celeb for "DWTS" Season 24.
"I just want to be healthy," Peta said, when Ginger Zee, who previously competed on "DWTS" not long after giving birth to her own child, asked what it's going to be like for pro Peta dancing post-baby. "It's going to take a little bit longer I think to get back up to the fitness that I was doing and had before, but I think it's going to be OK. I'm going to take it slowly, and hopefully I'll have an awesome partner to go through this with."
And Maks reflected on returning to the ballroom as a new dad.
"It's a definitely special time. I was always wanting to have kids. Never thought it would be like this. You just can't stop staring at this little person," he said.
"This is the only difficult part about coming back on the show this time because it'll just take time away from being with this dude," Maks added.
"Dancing with the Stars" Season 24 premieres March 20 on ABC.